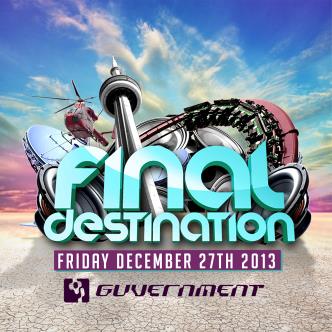 Venue:
When:
City:
Address:
Fri Dec 27 2013 800PM
Toronto
132 Queens Quay East
Advance: $25.00
The Most Anticipated Event Of The Entire Year Returns!
Crown Events Presents The 2nd Annual:
FINAL DESTINATION 2013
on Friday December 27th
Inside The Entire Guvernment Entertainment Complex
All Ages Event // All Access
Are you READY?!
Doors open at 8PM! Arrive early to avoid long line ups!
EARLY BIRD TICKETS ARE SOLD OUT! ADVANCE TICKETS ARE ON SALE!
Birthday Packages & VIP line bypasses are AVAILABLE!
Party buses in FULL EFFECT from all cities.
It is truly the ULTIMATE Experience.
Featuring:
North Americas Best & LARGEST Nightclub / 8 Rooms / 8 Sounds / Outdoor Patio / Thousands of Beautiful People / Top Sound Sytem & Visual Production in Canada / Kryoman / Pyrotechnics / Mass C02 Blasts / Crazy Smoke Show/ Insane Laser Light Effects / Performance by Talented Dancers & Artists
& The Most Important Attraction of All
YOU
The Best Crowd In The World
For More Information Contact Us at:
647-865-3809 or 416-939-7230
www.youtube.com/embed/qEXi1kwUWNo" frameborder="0″ allowfullscreen>
Last Updated on