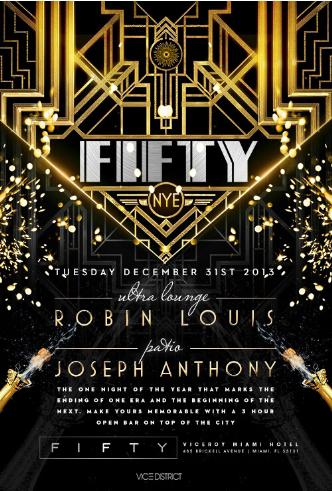 Venue:
When:
City:
Address:
Tue Dec 31 2013 800PM
Miami
485 Brickell Avenue
General Admission 3 Hour Open Bar: $125.00
FIFTY – NYE 2014
Tuesday December 31st 2013
And I like large parties. Theyre so intimate. At small parties there isnt any privacy. F. Scott Fitzgerald
The one night of the year that marks the ending of one era and the beginning of the next. Make yours memorable with a 3 hour open bar on top of the city.
FIFTY Ultra Lounge
485 Brickell Ave
Miami FL 33131
Additional Info Contact: RSVP@vicedistrict.com | 305.970.3516
Last Updated on