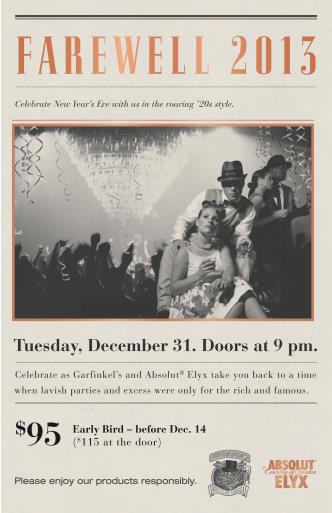 Venue:
When:
City:
Address:
Tue Dec 31 2013 700PM
Whistler
#1 – 4308 Main St.
Farewell 2013 NYE Speakeasy at Garfinkels: $95.00
Garfinkels and Absolut Elyx present FAREWELL 2013 – NYE SPEAKEASY CELEBRATION
Celebrate New Year Eve in roaring 1920′s style with the smooth sounds of DJ Shrew and Bruce the Moose .
Garfinkels and Absolut Elyx take you back to a time when lavish parties and excess were only for the rich and famous.
The night will include hors d'oeuvres, circus performers, cabaret dancers and a Champagne toast to Farewell 2013.
Dress to impress, 1920s themed party
Last Updated on