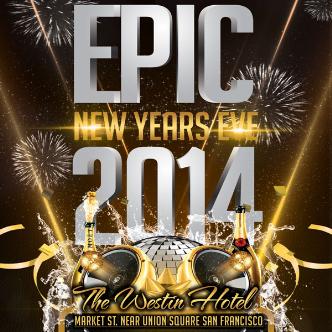 Venue:
When:
City:
Address:
The Westin – Market Street
Tue Dec 31 2013 900PM
San Francisco
50 Third Street
G.A. Group Discount – 4 Min: $49.00
General Admission Single: $55.00
Epic
New Years Eve
2014
The Westin San Francisco
Near Union Square
12.31.13
Featuring:
20,000 Feet of Party Space
2 Levels Of Entertainment
4 Rooms Of Music
DJ's To Be Announced Shortly
Dancefloor 1: Top 40, House, Hip-Hop
Dancefloor 2: 80′s/90′s/2k Hits
Dancefloor 3: Salsa, Merengue, Reggaeton
Dancefloor 4: VIP's Only Top 40 & Club Hits
Keep in mind that our New Year's Eve parties always sell out.
Purchase your discounted tickets before they increase in price and sell out.