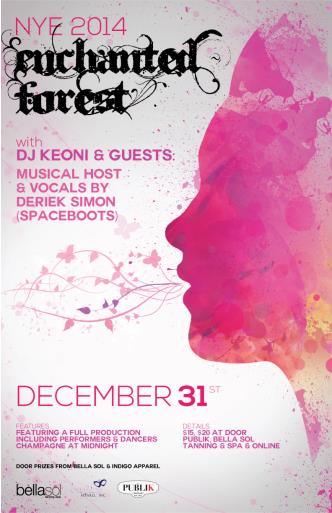 Venue:
When:
City:
Address:
Tue Dec 31 2013 900PM
Victoria
1318 Broad St
GENERAL: $15.00
It's that time of year again….
So what are you going to do?
We've decided to pull out the red carpet and do it in style.
With a full production of performers, body painting, aerial performance and other weird shit, this event is sure to impress. Leaving you in awe heading into 2014.
Our special guest mc for the evening Deriek Simon will make sure your evening is grand as he will be free-styling his guitar and luscious vocals overtop and with Dj Keoni's & MF Jones sounds of the evening. A musical performance like no other and
Our hosts for the evening Jesse and Eric will make sure that you have champagne in hand for the new years eve celebration.
This is a "No Effort No Entry" ticketed event that will be sure to sell out in advance. So don't delay. Get your tickets right away.
There will be Door Prizes, so come early.
-$200 Gift Certificate from Indigo Apparel on Lower Johnson
- Cut & Colour from Jesse Minty (retail $150)
- 3 individual month's unlimited tanning at Bella Sol in Royal Oak
Last Updated on