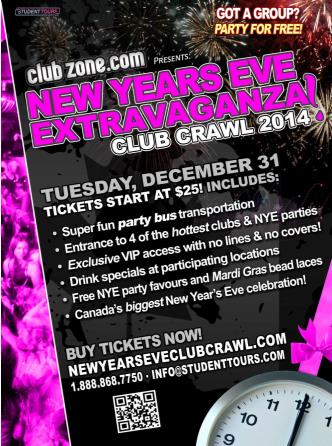 Venue:
When:
City:
Address:
STUDENT TOURS/CLUBZONE PRESENTS…
"THE BIGGEST AND BEST NYE PARTY ON THE FACE OF THE PLANET!"
New Years Eve Extravaganza Club Crawl 2014
"You do NOT have to be a Student! The NYE Club Crawl is for everyone of legal drinking age!"
WHY PARTY AT JUST ONE NEW YEAR'S EVE CELEBRATION…WHEN YOU CAN GO TO ALL OF THEM?
The Student Tours New Year's Eve "Extravaganza" Club Crawl is back for 2014. This is the one…the only… the original… Canada's biggest & best, most notorious New Year's Eve party of the year! This year we expect to host thousands of party people from across Canada on ONE single night… ringing in 2014!
HOW DOES IT WORK?
Canada's only student party company hosts our nation's largest New Year's Eve party. Last year we set a record with over 10,000 students participating across Canada… and yet again, we will be taking you on a "wild" ride to 4 of the hottest night clubs and NYE parties in your city. The clubs and dance floors will be packed and party hosts will be stationed on each bus to keep the mobile party rockin' between clubs. Our party bus transportation is simply outrageous! Don't worry if you feel a little shy on the first ride…believe us… you won't be by the end!
Our mobile NYE party is a unique party experience that you just won't see on a normal night!
Starting Locations:
Doors open at 7:00pm, Buses roll 8:00pm
Route 1: Rack – Mystery – Mystery – Knoxville's
Route 2: Knoxville's – Mystery – Mystery – Rack
Route 3: Buckingham – Mystery – Mystery – Pint Downtown
Route 4: Ranch – Mystery – Mystery – Knoxville's
Route 5: Pint Whyte – Mystery – Mystery – Ranch
Your 2014 New Year's Eve Club Crawl Pass Will Include:
* 4 of the hottest downtown night clubs
* Super fun party bus transportation between clubs
* Absolutely no cover charges and no waiting-in-line* Massive contests & prizes
* Official Mardi Gras bead laces* Exclusive access to Canada's largest NYE celebration
Fun Factor & Quality Assurance Guarantee: On a Student Tours club crawl we absolutely guarantee that you will have the time of your life! It will definitely be a unique experience. So be sure to hop aboard and join thousands of other party people for a truly amazing night that you will never forget!
Last Updated on