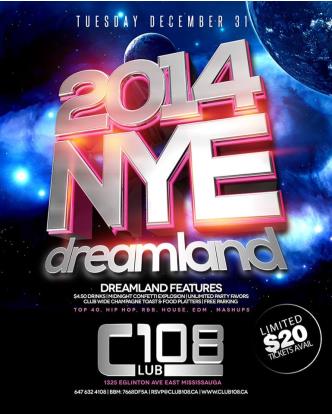 Venue:
When:
City:
Address:
Tue Dec 31 2013 1000PM
Mississauga
1325 Eglinton Ave E.
Early Bird DreamLand: $20.00
Regular DreamLand Tickets: $25.00
On New Years Eve Tuesday December31, 2013
Everynew year welcomes new opportunity and possibilities. A fresh start and atime to celebrate the good things in life with friends in the form of a party. Something big. Something fresh. Something new. This is …

DREAM LAND 2014
inside the mega venue

CLUB 108
(1325 Eglinton Avenue East, Mississauga)
Club108 features a Dreamland experience as we ring in 2014 in a realm of fantasyand magic. This 25,000 square foot high energy environment is the back drop toa dreamland of ultra-captivating dcor, a brand new LED light show with massivesound, fine-tuned by the top sound scientists in the nightlife industry thatwill sweep you off your feet and is sure to spoil the senses.
Limited early bird tickets at $20 | PersonalVIP Areas Available | Discounted hotel rooms available
Dream Land Features:
$4.50 Drinks | Midnight Confetti Explosion | Unlimited Party Favors | Club WideChampagne Toast & Food Platters | Free Parking
Dream Land Music Will Be A Mix Of:
Top 40 + Hip Hop + R&B + House + Edm + Mashups
For additional information, tickets and booth reservations, please contact:
647 632 4108 | BBM: 7668DF5A| rsvp@club108.ca
Last Updated on