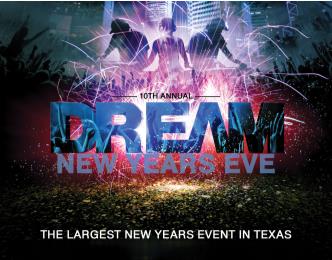 Venue:
When:
City:
Address:
Tue Dec 31 2013 900PM
Dallas
1500 Dragon St
General Admission: $30.00
VIP Ticket: $40.00
Celebrity VIP Ticket: $60.00
Dream VIP Ticket: $85.00
Cockrell Upgrade 3: $800.00
Sameni Entertainment Group Presents
10th Annual DREAM NYE at eM Nightclub & Lounge
The BIGGEST NYE Party in Texas.
Tuesday, December 31, 2013
3 ROOMS, 12 BARS, 10 DJS, 40 DREAM MAKERS, 4000 PEOPLE & 1 HELL OF A GOOD TIME
Your favorite promoters and brands have come together for one night to bring you the BIGGEST EVENT of the year. Over 20,000 have brought in the New Years with Dream NYE over the past 9 years and we are raising the bar yet again this year and throwing our biggest party to date!
We are featuring 10 djs, 12 bars, 40 Dream Maker Showgirls in 3 rooms and expecting over 4,000 people. Your favorite Djs will be playing the best in Hip Hop, Electro and Top 40 that will keep you dancing all night!
Ring in the New Year under a $10,000 Cash & Prize Balloon & Confetti Drop!
DO NOT MISS YOUR CHANCE TO BE A PART OF THE BIGGEST NYE PARTY IN TEXAS!!
eM Nightclub & Lounge is the most extravagant private venue in Dallas and we have secured it for the BIGGEST New Years Eve bash in the country!!
eM Lounge was the The Grey Goose Lounge for Super Bowl XLV and has hosted celebrities such as Jason Terry, Dirk Nowitzki, Chris Brown, Jamie Foxx, Lil Kim,Jadakiss, Jeremy Piven and many more.
Featuring:
Luxurious & Private Facility
Red Carpet PaparazziEntrance
10 Djs Playing Hip Hop,Electro & Top 40
$10,000 Snow & Cash Balloon Drop
$10,000 In Free Door Prizes
$10,000 In Party Favors
Midnight Champagne Toast
Super Confetti Cannons
40 Dream Maker Showgirls
Live Countdown
45 VIP Sections
ADMISSION
$30 VIP Ticket
$40 VIP Ticket
Includes VIP Entrance, Access to VIP Areas, Deluxe Party Favors
$60 Celebrity Ticket
Private VIP Entrance, Deluxe Party Favors, access to hosted bar from 9PM 11PM
$85 Dream Ticket
Private VIP Entrance, Deluxe Party Favors, access to hosted bar from 9PM 2AM
VIP Packages
Main Room 1 – $450
1 Bottle of Premium Liquor, 1 Bottle of Champagne, 4 VIP Tickets,. Deluxe Party Favors, Gratuity
Main Room 2 – $800
2 Bottles of Premium Liquor, 2 Bottles of Champagne, 8 VIP Tickets,. Deluxe Party Favors, Gratuity
Main Room 3 – $1100
3 Bottles of Premium Liquor, 2 Bottles of Champagne, 12 VIP Tickets,. Deluxe Party Favors, Gratuity
Main Room 4 – $1500
4 Bottles of Premium Liquor, 3 Bottles of Champagne, 16 VIP Tickets,. Deluxe Party Favors, Gratuity
Stage VIP 1 - $1900
5 Bottles of Premium Liquor, 4 Bottles of Champagne, 22 VIP Tickets,. Deluxe Party Favors, Gratuity
Stage VIP 2 - $2300
6 Bottles of Premium Liquor, 5 Bottles of Champagne, 28 VIP Tickets,. Deluxe Party Favors, Gratuity
Dream VIP Package - $5000
10 Bottles of Premium Liquor, 2 Bottles of Ace of Spades Champagne, 50 VIP Tickets,. Deluxe Party Favors, Gratuity
18+ Welcome | Valid ID Required
eM Nightclub & Lounge
1500 Dragon St Da
Last Updated on