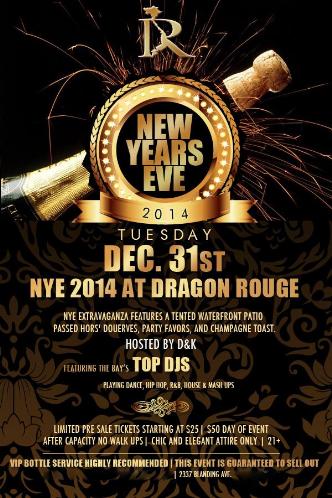 Venue:
When:
City:
Address:
Tue Dec 31 2013 900PM
Alameda
2337 Blanding Avenue
Regular: $55.00
Experience the New Year Dragon-Style at East Bay's premier waterfront venue Dragon Rouge. Our first Annual NYE Extravaganza will feature a tented patio on the waterfront, two dance room, passed hors d'ouerves, champagne toast at midnight, party favors and a ton of memories. Get your tickets early and save, as this will be the hottest NYE party in the East Bay!
VIP Bottles Service Packages
~ Couples Package ~
Bottle of Moet Rose, Chocolate Covered Strawberries, Small table, 2 entries (6 available) – $200
~ Group Package ~
Two Bottles (Goose, Ciroc, Patron, Hennessy), One Bottle of Champagne, Chocolate Covered Strawberries, Table, 6 entries (5 available) – $650
~ Grand Canopy Package ~
Three Bottles (Goose, Ciroc, Patron, Hennessy), Two bottles of champagne, Chocolate Covered Strawberries, Lounge area under Bamboo Canopy, 15 entries (2 available) – $1,050
FAQs
What type of an event is this?
Dragon Rouge 2014 New Year's Eve Extravagaza an upscale event for the 21+ at Dragon Rouge Waterfront Bistro in Alameda, right off of the Park Street Bridge.
What does my GENERAL ADMISSION TICKET include?
Your GA ticket includes ALL of the following:
* Admission & Access the Tented Waterfront Patio, the Main Floor, and all Bar areas
* Hors d'ouerves, Champagne Toast, Chocolate Covered Strawberries, and Party Favors.


What are the event hours?
Event begins at 9 pm, and ends a little before 2am.
I ordered my tickets online, how & where do I pick up my tix?
All tickets will be claimed at our Will-Call station for pickup on the evening of the event at the Patio Entrance

Will Call will begin on 12.31.13 at 8:30 pm 12:30 am.

It is highly recommended that you come early to ensure entry before Midnight.

What do I need to pickup my tickets at will call?
Please bring a valid government issue ID and order # (you may also bring a print-out of the confirmation email that was sent to the email address you provided).
Does it matter which host/org I purchase my tickets from?
There is no difference which host/organization you purchase through. Please select the host/org who invited you. Each ticket will be valid for 1 admission to this grand event!

Will tickets be available at the door?
A limited number of tickets will be held at the door for sale beginning at 8:30 pm on the day of the event. These prices will be higher than the last presale admission price listed online.

Will there be any food served at the event?
You may have dinner at the restaurant prior to the event, which is separate from the NYE event. Limited quantities of passed Hors d'oeuvres will be available at the event on a first come first serve basis.

Will there be a Coat Check available?
No, we do not have Coat Check services.

What kind of music will be played?
There will be 2 rooms of music, on the main room and tented patio playing dance, hip-hop, R&B, House, and Mash Ups.

Will there be general seating at the event?
General seating, if available, will be EXTREMELY limited. If you'd like a reserved table, please view our Bottle service options.

Where do I enter the party from?
The entrance to the party will be on the waterfront at the entrance of the tented patio.

Where do I park?
We have plenty of parking in our lot as well as street parking, all for FREE!

What is the dress code?
Semi-formal attire required: Dresses, Suits, Collared shirts/Slack. Black tie optional. No refunds for those not in dress code. No jeans, tennis shoes, t-shirts.

Will there be smoking allowed?
There will be an outdoors smoking section provided for our guests. No smoking will be permitted inside the facility – those who break this law will be escorted off premises immediately. No refunds permitted.
Last Updated on