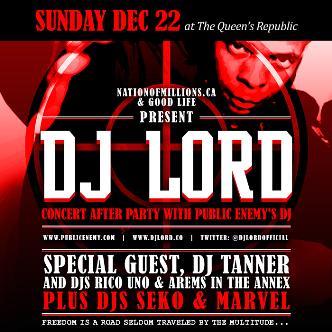 Venue:
When:
City:
Address:
Sun Dec 22 2013 1000PM
Vancouver
958 Granville St
Regular: $15.00
NationOfMillions.ca & The Good Life present

Concert After Party with…
DJ LORD (Public Enemy)

www.PublicEnemy.com
www.DJLord.co
Twitter: @DJLordOfficial
Plus DJs Seko & Marvel (The Freshest)
and DJs Rico Uno (The Freshest) & Arems in The Annex (Faction Sound) with Special Guest DJ Tanner!

DJ Lord:
Public Enemy is performing at the Commodore, and after the show their DJ, DJ Lord, is throwing down a set at The Good Life at Queens republic! DJ Lord has been acknowledged for years in the competition circuit as one of the best turntablists in the world. Influenced by legends such as Cash Money, Grand Master Flash, Jam Master Jay, Jazzy Jeff, and Terminator X, Lord spent years honing his craft to raise his caliber amongst these renowned greats. In 1999 DJ Lord stepped up to fill the shoes of Terminator X and joined Public Enemy. He has been their DJ ever since. Believe the hype!
Follow us on Twitter: @TheQueensYVR
Last Updated on