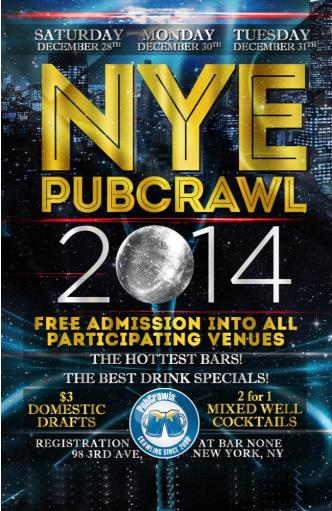 Venue:
When:
City:
Address:
Tue Dec 31 2013 500PM
New York
98 Third Avenue
3 DAY ALL ACCESS PASS: $35.00
Tuesday Dec 31 Admission: $20.14
As January approaches, so does one of the most anticipated nights of the year -New Year's Eve! New York City is one of the most popular destinations in theworld. Nothing compares to the experiences that the sights, sounds andentertainment that NYC provides. But rather than sticking to one venue on anight that truly gives you the opportunity to make memories that last alifetime, why not spice things up by visiting some of the best venues in theBig Apple? The producers of the world's largest Pub Crawl, PubCrawls, arehosting yet another popular event that will feature the best nightclubs andbars that New York City has to offer, the official NY New Year's Eve 2014PubCrawl!
OnSaturday December 28th, Monday December 30th and New Year's Eve day, TuesdayDecember 31st, Bar None will hold registration for Pub Crawlers that arelooking to take advantage of all the New Year's PubCrawl festivities. Feelingreally courageous? Take advantage of the 3 Day All Access Pass ticket and enjoythe PubCrawl on all 3 days! It's a great package for ringing in the New Year inone of the great cities in America while enjoying the best drink specials. $3Draft Beers and 2 for 1 Well Mixed Cocktails will be offered at Bar None andother select participating venues.
General Admission access for 1 to the New Year's Eve PubCrawl on all 3 dates. Access to ALL participating bars.

VENUE: Bar None
ADDRESS: 98 3rd Ave
12/28 REGISTRATION TIME: Sat 12/28 [4pm - 11pm]
12/28 EVENT TIME: Sat 12/28 [4pm - 2am]

VENUE: Bar None
ADDRESS: 98 3rd Ave
12/30 REGISTRATION TIME: Mon 12/30 [5pm - 11pm]
12/30 EVENT TIME: Mon 12/30 [5pm - 2am]

VENUE: Bar None
ADDRESS: 98 3rd Ave
12/31 REGISTRATION TIME: Tue 12/31 [5pm - 11pm]
12/31 EVENT TIME: Tue 12/31 [5pm - 2am]
Last Updated on