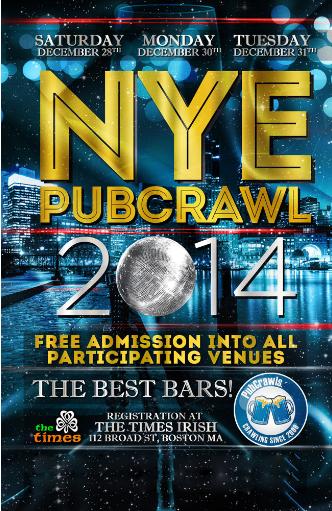 Venue:
When:
City:
Address:
Tue Dec 31 2013 500PM
Boston
112 Broad St.
Tuesday Dec 31 Admission: $50.00
There's no better time of the year to prepare for a phenomenal day out with your friends than New Year's Eve. It's the one time of the year when we look back at the amazing memories we've had and prepare to ring in the whole new set of 365 days, wishing that our future will be just as good as what's to come. Chances are that last year, and the year before, and the year before that, was pretty similar when it came down to your New Year's plans. This year, it's time to spice things up in Boston as the biggest PubCrawl event producer in the world is hosting an awesome PubCrawl during the holiday season.
The typical New Year's experience has us sticking to the same venue all night long, but this year it's time to change things up by inviting a little variety. Meet new friends in fun and social environments, while enjoying great drink specials on up to 3 massive days of pub-crawling. This is set to be one of the most sought after New Year's Eve parties in Boston, so act quick and be sure to invite all of your friends while you're at it. Gain free admission to participating venues and take advantage of this ultimate party package deal while tickets are still on sale.
General Admission access for 1 to the PubCrawls New Year's Eve PubCrawl on all 3 days. Access to ALL participating bars.

VENUE: The Times Irish
ADDRESS: 112 Broad St
12/28 REGISTRATION TIME: Sat 12/28 [4pm - 10pm]
12/28 EVENT TIME: Sat 12/28 [4pm - 2am]
VENUE: The Times Irish
ADDRESS: 112 Broad St
12/30 REGISTRATION TIME: Mon 12/30 [5pm - 11pm]
12/30 EVENT TIME: Mon 12/30 [5pm - 2am]
VENUE: The Times Irish
ADDRESS: 112 Broad St
12/31 REGISTRATION TIME: Tue 12/31 [5pm - 11pm]
12/31 EVENT TIME: Tue 12/31 [5pm - 2am]
Last Updated on