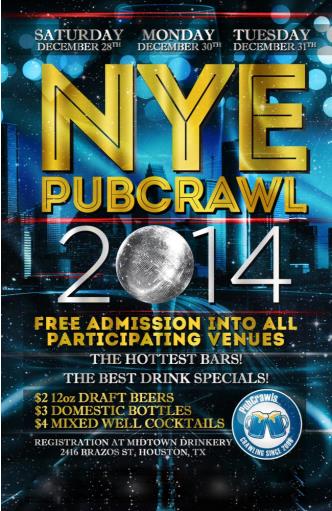 Venue:
When:
City:
Address:
Mon Dec 30 2013 500PM
Houston
2416 Bagby Street
3 DAY ALL ACCESS PASS: $25.00
Monday Dec 30 Admission: $10.00
AffordableNew Year's Eve events are tough to come by. Luckily, Houston will be a citythat will encompass a PubCrawl event that will allow all guests entry to someof the Houston best bars at a very low cost. Rather than sticking to the same routine,and having to visit a crowded club or lounge in Houston for New Year's Eve, whynot change things up and be a part of one of the most anticipated event of theyear? This New Year's, the producers of the world's biggest and most popularpub crawl, PubCrawls, have staked their claim in Houston and are ready toproduce yet another record breaking event – the official Houston New Year's Eve2014 pub crawl!
OnSaturday December 28th, Monday December 30th and New Year's Eve day, TuesdayDecember 31st, several bars including Midtown Drinkery will be participating ina party package that is sure to create massive festive buzz in the Houstoncommunity. Get your PubCrawls wristband at registration and enjoy hoppingaround the top rated venues in Houston. Gain free admission into some of thehottest NYE events in Houston for a very competitive price.
General Admission access for 1 to the Houston New Year's Eve PubCrawl on all 3 days. Access to ALL participating bars.
VENUE: Midtown Drinkery
ADDRESS: 2416 Brazos St
12/28 REGISTRATION TIME: Sat 12/28 [3pm - 11pm]
12/28 EVENT TIME: Sat 12/28 [3pm - 2am]

VENUE: Midtown Drinkery
ADDRESS: 2416 Brazos St
12/30 REGISTRATION TIME: Mon 12/30 [5pm - 11pm]
12/30 EVENT TIME: Mon 12/30 [5pm - 2am]

VENUE: Midtown Drinkery
ADDRESS: 2416 Brazos St
12/31 REGISTRATION TIME: Tue 12/31 [5pm - 11pm]
Last Updated on