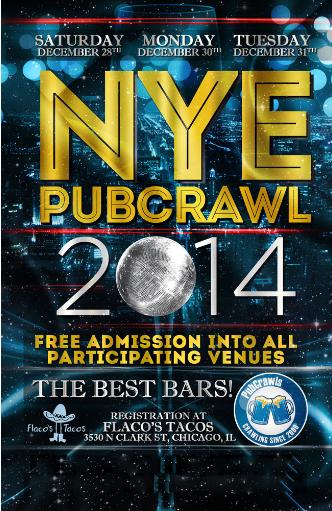 Venue:
When:
City:
Address:
Sat Dec 28 2013 500PM
Chicago
3530 N Clark Street
3 DAY ALL ACCESS PASS: $45.00
Saturday Dec 28 Admission: $15.00
As January approaches, so does one of the most anticipated nights of the year – New Year's Eve! Chicago is one of the most popular NYE destinations in the world. Nothing compares to the experiences that the sights, sounds and entertainment that Chicago provides. But rather than sticking to one venue on a night that truly gives you the opportunity to make memories that last a lifetime, why not spice things up by visiting some of the best venues in the windy city? The producers of the world's largest Pub Crawl, PubCrawls, are hosting yet another popular event that will feature the best nightclubs and bars that Chicago has to offer, the official Chicago New Year's Eve 2014 PubCrawl!
On Saturday December 28th, Monday December 30th and New Year's Eve day, Tuesday December 31st, several bars including Flaco's Tacos and Exedus II will hold registration for Pub Crawlers that a
re looking to take advantage of all the New Year's PubCrawl festivities. Feeling really courageous? Take advantage of the 3 Day All Access Pass ticket and enjoy the PubCrawl on all 3 days! It's a great package for ringing in the New Year in one of the great cities in America while enjoying the best drink specials in town. Gain free admission into some of the hottest NYE events in Chicago for a very competitive price.
General Admission access for 1 to the Chicago New Year's Eve PubCrawl on all 3 days. Access to ALL participating bars.
VENUE: Flaco's Tacos
ADDRESS: 3530 N Clark St
12/28 REGISTRATION TIME: Sat 12/28 [4pm - 11pm]
12/28 EVENT TIME: Sat 12/28 [4pm - 2am]

VENUE: Flaco's Tacos
ADDRESS: 3530 N Clark St
12/30 REGISTRATION TIME: Mon 12/30 [5pm - 11pm]
12/30 EVENT TIME: Mon 12/30 [5pm - 2am]

VENUE: Flaco's Tacos
ADDRESS: 3530 N Clark St
12/31 REGISTRATION TIME: Tue 12/31 [5pm - 11pm]
12/31 EVENT TIME: Tue 12/31 [5pm - 2am]
Last Updated on