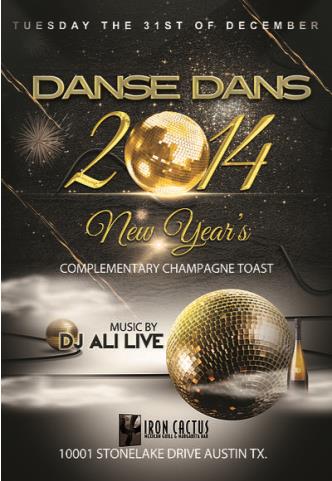 Venue:
When:
City:
Address:
Tue Dec 31 2013 800PM
AUSTIN
10001 STONELAKE BLVD
FACEBOOK INTERNET SPECIAL: $10.00
FUN: PARTY OF FOUR: $400.00
FUN PARTY OF 8: $750.00
DOOR PRICES: $50.00
COME CELEBRATE AND USHER IN THE NEW YEAR BY ATTENDING THE BIGGEST AND HOTTEST PARTY AUSTIN HAS YET TO SEE, NORTH IRON CACTUS BRINGS YOU THIS AMAZING PARTY IN YOUR OWN CITY OF AUSTIN. NOT ONLY WILL YOUR FAVORITE DJS KEEP YOU DANCING ALL NIGHT LONG , WE PROMISE TO KEEP YOU ENTERTAINED AND ENGAGED ALL THROUGH THE NIGHT UNTIL THE BALL DROPS AND BEYOND, COME SEE US COMBINE ALL YOUR FAVORITE ASPECTS OF NIGHT LIFE INTO ONE AMAZING NIGHT. FROM OUR CHAMPAGNE TOAST TO OUR COUNT DOWN , USHER IN THE NEW YEAR OFF RIGHT WITH THE ABOVE ALL BASH. COME PARTY LIKE A ROCK STAR WITH THE MOST BEAUTIFUL PEOPLE IN YOUR REGION EXPERIENCE THE CLASSY DECOR ALONG WITH A THUMPING SOUND SYSTEM PUMPING ELECTRIFYING SOUND DO NOT BE ONE TO MISS OUT AND HEAR ABOUT IT THE NEXT DAY.
Last Updated on