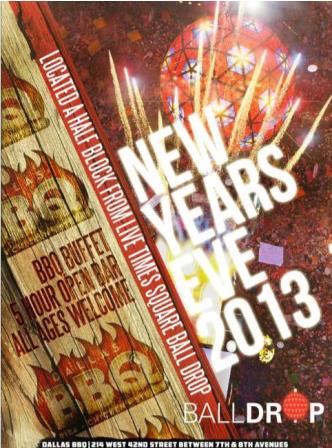 Venue:
When:
City:
Address:
Dallas BBQ – Times Square
Tue Dec 31 2013 800PM
New York
241 W 42nd Street
General Admission: $125.00
HIGHLIGHTS

- Located 1/2 block from the LIVE Ball Drop
- Available for All Ages (Rare)
- Up to (6) hr Open Bar Available
- BBQ Buffet food available from 8-11:30 PM
- Amazing service and signature cocktails
OVERVIEW

Don?t stand out in the cold and wait till midnight? raise the temperature a few degrees at Dallas BBQ! Just half block from the fabled Ball, this all-ages, first come, first serve party is sure to be the best in Times Square. Whether you?re planning a big group outing or just hanging with a few friends, this party can accommodate any sized congregation. A full BBQ buffet of lip-smacking Southern cuisine and an open bar are sure to fuel the fun. With our DJ spinning all night, you and your pals can dance the night away in true Times Square style. Fun party favors will keep you in the New Year?s Eve spirit all night long! VIP guests can take the escalator up to the action-packed second floor, where they can enjoy guaranteed or reserved seating and champagne for the big moment. Don?t worry about getting distracted? no one will miss a thing, with a live feed of the Ball drop and a DJ countdown to midnight. Between the excitement and anticipation of nearly one million people counting down to midnight and some of the best BBQ in New York, the crowd at Dallas BBQ will ring in 2014 with gusto.
Dinner Buffet (9:00 to 11:30pm)
Garden Salad – Cesar Salad, Rotisserie Chicken (plain or BBQ), BBQ Baby-back ribs, Homemade Chili, Baked Potato, Coleslaw, Baked Beans, Corn on the Cob, BBQ Pulled Pork, Chicken Fingers, French Fries, Yellow Rice
Dallas BBQ will provide full Open Bar Service through the duration of the evening with: Mixed Drinks, Pineapple Crush, Margaritas, Piña Coladas & Virgin Daiquiris, Draft & Bottled Beer, Wine & Champagne