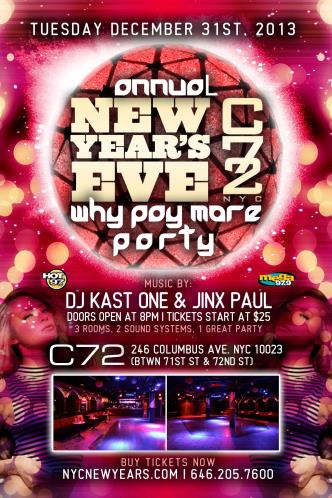 Venue:
When:
City:
Address:
Tue Dec 31 2013 800PM
New York
246A Columbus Ave
General Admission (ALMOST SOLD OUT): $30.00
7th Annual Why Pay More NYE Party
Why pay more party is the brainchild of a few of NYC's nightclub promoters who decided to do away with the rigor and drama of the traditional format of New Years Eve parties, with always escelating prices and the experience dwindling.
In comes the Why Pay More Party, the New Years Party where all the true new yorkers hang out and ring in the new year. This is an on budget no frills event catering to everyone from all walks of life, come, dance, party, enjoy, go home happy!
For our 7th Year we are taking our event to C72 aka Columbus 72 where we will be tucked away from the hustle and bustle of Times Square and create our own night of shenanigans in the Upper Westside.
General Admission
Includes Admission for 1 guest
Table for 2
Includes Admission for 2 guests
Enjoy reserved nightclub seating (GA ticket holders stand)
Bottle service and mixers at your table
Choice of 1 bottle of Ciroc, Hennessy, or Moet Champagne
Bottle service gratuity is a charge paid to the venue on the night of the event. It is NOT included in the ticket price. (Bottles are included in ticket price!)
Priority admission by separate VIP line
Bottle service gratuity is $50 per bottle paid prior to receiving your bottles
Table for 4
Includes Admission for 4 guests
Enjoy reserved nightclub seating (GA ticket holders stand)
Bottle service and mixers at your table
Choice of 1 bottle of Ciroc, Hennessy or Moet Champagne
Bottle service gratuity is a charge paid to the venue on the night of the event. It is NOT included in the ticket price. (Bottles are included in ticket price!)
Priority admission by separate VIP line
Bottle service gratuity is $50 per bottle paid prior to receiving your bottles
Table for 6
Includes Admission for 6 guests
Enjoy reserved nightclub seating (GA ticket holders stand)
Bottle service and mixers at your table
Choice of 2 bottle of Ciroc, Hennessy or Moet Champagne
Bottle service gratuity is a charge paid to the venue on the night of the event. It is NOT included in the ticket price. (Bottles are included in ticket price!)
Priority admission by separate VIP line
Bottle service gratuity is $50 per bottle paid prior to receiving your bottles
VIP Lounge Table for 8
Includes Admission for up to 8 guests
Enjoy reserved nightclub seating (GA ticket holders stand)
Table in the Private VIP Room
Bottle service and mixers at your table
Choice of 3 bottle of Ciroc, Hennessy or Moet Champagne
Bottle service gratuity is a charge paid to the venue on the night of the event. It is NOT included in the ticket price. (Bottles are included in ticket price!)
Priority admission by separate VIP line
Bottle service gratuity is $50 per bottle paid prior to receiving your bottles
Last Updated on