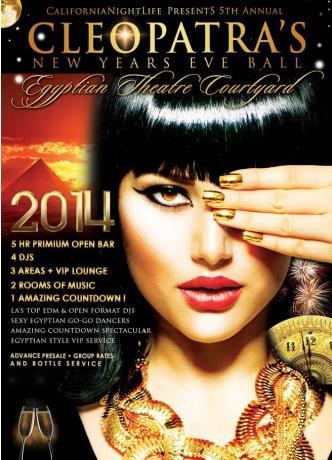 Venue:
When:
City:
Address:
Egyptian Theater and Courtyard
Tue Dec 31 2013 900PM
Los Angeles
1625 N. Las Palmas Ave.
Golden Ticket – Special Promo: $69.00
Goldent Ticket: $100.00
Emerald VIP Ticket: $125.00
Cleopatra's 5th Annual
2014 New Year's Eve Ball
at The Egyptian Theater in Hollywood
"Cleopatra's 2013 New Year's Eve Ball, the Best Party in Los Angeles…" by LA NewYears
Celebrate NYE in Style along the Walk of Fame in the beautifully World Famous Grauman?s Egyptian Theatre Courtyard plus themed indoor venues with, Hollywood?s Best DJs spinning Top 40, hip-hop mash-ups, spectacular light show & a open bar all night to ring in 2013 with perfection.
From the creators of the Sunset Room, White Lotus, Lure Hollywood, La Vida, Cabana Club, Ritual, Halo, and Green Door for the 3rd Straight Year to Spend New Year's 2013 at the World Famous Egyptian Theatre's Courtyard located along the stars of Hollywood Boulevard.
Hollywood's most anticipated event this New Year's Eve is expected to sell out in advance. Limited tickets may be available at the door. Early arrival is highly recommended.
THE QUESTION: WHY WILL THIS BE THE #1 New Year's Eve Party in Hollywood?
THE VENUE: Enter through the gates of the extravagant Egyptian Theater into a glamorous grand courtyard illuminated festive lighting. Designed for its exclusive celebrity movie premiers and red carpet ceremonies, for one night only, this venue will be open for an event of huge magnitude. You and all your friends will be partying on this special night both indoors and in the outdoor, heated, mega venue, underneath the stars, in the middle of Hollywood Blvd.
You will find yourself in a dance room with sexy Cleopatra's, Egyptian Queens and Pharaoh's mixing your favorite drinks along with our top DJ's spinning the hottest beats!
Open Bar All Night: Over 5 fully staff bars to be served drinks all night long.
Premium OPEN VIP BAR: Includes express entry and exclusive access to Cleopatra`s VIP Lounge with a Premium Open Bar serving all night, where the drinks are unlimited! (Limited tickets available).
THE ANSWER: THIS IS THE PLACE TO BE FOR NEW YEAR'S EVE AND ALL YOUR FRIENDS WILL BE THERE!
For one night only, the biggest party in Hollywood on the most anticipated night of the year is the EGYPTIAN THEATER AND COURTYARD!
____________________________________________________________________________________________________
This is a glimpse of what awaits you:
* The BIGGEST & MOST popular New Year's Eve PARTY in Hollywood 5 years Running!
* Light show that will dazzle 21century Hieroglyphics animations all night!
* 3 rooms, 2 dance floors with a stage
* 5 professionally staffed, full bars with an open Bar All Night!
* Private VIP Booths
* Huge outside heated courtyard with DJ's and bars
* Amazing lighting effects & laser show
* 2 DJ's rocking' the house with the best Club Mix: Hip Hop, House and Top-40
* Dance videos playing on big-screen projectors
* Top of the line sound system
* Sexy GO-GO dancers!
* 1 Spectacular Countdown with Giant Wall Projection
* and, much, much more!
Breakdown:
Music Style: The Ultimate Club Mix | 2 rooms of Music
Age Requirement: 21
Dress Code: Egyptian Costumes preffered | but not required
Door: Presale Tickets Guarantee Entry – Event Sells Out Every Year. Enter: on 1625 N. Las Palmas.
Event Times: 9pm – 2am
All Sales are final. No refunds or exhanges. Prices are subject to change while supplies last.
: | King Tut Package
1 Premium Bottle of Alcohol, 4 Golden Tickets, 1 Reserved Table Inside | Includes Tax & Tip
: | Nefertiti Package
2 Premium Bottles, 5 Emerald VIP Tickets, 1 Reserved VIP Table in VIP Lounge | $725 Includes Tax & Tip
: | Isis Package
3 Premium Bottles of Alcohol, 10 Golden Tickets, 1 Table Outside in Main Courtyard | $950 Includes Tax & Tip
: | RA Package
4 Premium Bottles of Alcohol, 12 VIP Tickets, Best Table Near Dance Floor in Main Courtyard: Includes Tax & Tip