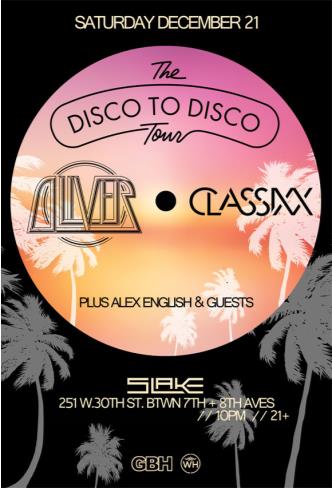 Venue:
When:
City:
Address:
Slake
Sat Dec 21 2013 1000PM
New York
251 West 30th St
Regular: $25.00
Saturday December 21st
Doors at 10:00PM
21+
OLIVER
Oliver have found the beating heart inside the dance machine. Whether moving bodies at the worlds biggest electronic festivals, or hand-crafting digital gems in the studio, the producer / DJ duo of U-Tern and Oligee are responsible for some of the funkiest, toughest, and most diverse dance music today.
After spending years writing, producing, DJing and digging for vinyl, U-Tern and Oligee linked up in LA to forge something groundbreaking. They took their shared 80s baby tastes relentlessly groovy R&B, boombox worthy hip-hop, soaring electropop hooks and mashed them together in remixes for everyone from Chromeo and Foster The People to Breakbot and techno godfather Juan Atkins. Original jams like All Night and Dirty Talk (supported by dance music luminaries like Alan Braxe and Busy P) took Olivers back-to-the-future sound even further, while high-powered collaborations with A-Trak (Disco Nap) and Destructo (LA Funky) brought the duo to the festival circuit, where they kept hands in the air all summer.
With the release of their Fools Gold EP Mechanical, Oliver push their hybrid sound to even funkier new horizons. The stadium worthy opener MYB perfectly segues into the moody strut of Night Is On My Mind, before shifting gears with the hands-in-the-air ecstasy of Control and riding off into the sunset on the title tracks cinematic pulse. With non-stop DJ sets on deck (complete with Oligees live keyboard riffs) and even more new music, theres no telling where the beats will take them next. Oliver is all over the map, says U-Tern. But were going to have a good time no matter what.
CLASSIXX
Music comes naturally to L.A. duo Classixx, childhood friends who began recording together in 2007, united by their mutual appreciation for shimmering melody, punk rock, disco and French house. When Classixx DJ, they do so with exceptional comprehension, a clear affinity for the music they play. Theres a kinship between the songs they select and their own original works, at once beaming, breezy and wistful, descendent from similarly pop-minded melancholics like Fleetwood Mac, Prince, and Alan Braxe.
Now one of the worlds most universally respected DJ duos, Classixx have headlined everywhere from the famed Paris Social Club to New Yorks Webster Hall, touring constantly since releasing their exuberant 2009 single Ill Get You, which featured Lady Gaga songwriter Jeppe. Following their breakout single with acclaimed remixes for Phoenix, Holy Ghost, Mayer Hawthorne, Groove Armada, Yacht, Major Lazer, Gossip and others, for the last two years Classixx have been intent on their debut Hanging Gardens, whittling the LP down from hundreds of sessions to a svelte 12 songs.
Their musical background is substantial. Michael David fronted a major label-signed rock band in high school, and he and one-time Berklee School of Music student Tyler Blake play a wide array of instruments on Hanging Gardens.
Its a very gear-heavy record. We pretty much played everything in here on it, Tyler says, surveying their Venice beach studio, a cottage which houses six or seven guitars, a piano, various analog synths and a drum kit. One of their favorites is an indigenous Central American drum with a fuzzy hot pink mallet, which was used frequently throughout the album.
We used a lot of Prophet 08, Voyager, Juno-106, a lot of [Yamaha] DX-7, the Vermona drum synth, we have a LinnDrum, a [Yamaha] CP70, which is a famous stage piano, Mike adds. Tylers dad has an old American Fender Telecaster that was played a lot, and then my old man, thats his Ibanez Stratocaster.
The album begins with nostalgic title track Hanging Gardens, a reference to the Seven Wonders of the World, one of which was the Hanging Gardens of Babylon. The opening songs reverie continues on haunting collaborations with Active Child on Long Lost, Superhumanoids singer Sarah Chernoff on the ethereal A Stranger Love, and the coastal, dreamy A Fax From the Beach. Hanging Gardens concludes poetically with Valley Vacation, a reference to their late-night escape from their old studio, nestled in the seedy heart of L.A.s porn industry, to their current Venice beach sanctuary.
If the quieter moments of the album are inspired by the beach, then the upbeat tracks are clearly primed for the dance floor, from churning slapper Relight My Fire and gleefully catchy Nancy Whang-featuring All Youre Waiting For, to the French Touch-inspired anthem Holding On sublime chords of Dominoes and grooving bass and live drums of Supernature.
Classixx excel at cutting impossibly sunny grooves, blithe melodies bred by the coast, coaxed out by the surf, expertly crafted for road trips, pool parties and dance clubs. I really think this is a product of the Los Angeles experience, Mike says. Which is also part of the reason we called it Hanging Gardens. For some reason that image just reminds me of Los Angeles. I feel like most people would agree that it sounds like California, Tyler concurs. When were working on a song and I look out the window it just seems like the soundtrack of this city. This beach.
Located at 251 W. 30th Street between 7th and 8th Avenue