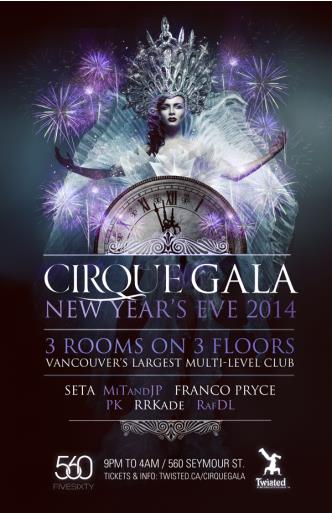 Venue:
When:
City:
Address:
Tue Dec 31 2013 900PM
Vancouver
560 Seymour Street
Regular: $70.00
Grey Goose & Moet Table Package for 6: $975.00
Grey Goose Table Package for 10: $1400.00
Grey Goose & Moet Table Package for 10: $1800.00
TWISTED
presents
CIRQUE GALA – NYE 2014
Ring in the new year in style at Vancouver's premier nightclub. Featuring 6 of the city's best house, progressive, hip hop, and trap DJs, Cirque performance artists, 2 floors of music + a VIP Mezzanine level, and a countdown you won't forget! Toast to the good memories of 2013 and the great times to come in 2014 with a complimentary glass of champagne at midnight.
TUESDAY | DECEMBER 31 | 2013
9pm to 4am (Extended Hours)
@ FIVESIXTY | 560 Seymour St., Vancouver
3 ROOMS ON 3 FLOORS
VANCOUVER'S LARGEST MULTI-LEVEL CLUB
Featuring Cirque Performance Artists:
Contortionists | Aerial Silk Performers | Dancers | + More
WITH
SETA | MiTandJP | FRANCO PRYCE
PK | RRKade | RafDL
TICKETS:
Available online at
www.twisted.ca
Also at:
BEAT STREET – 439 W. Hastings St., Vancouver 604-683-3344
URBAN CITY – Metrotown, Burnaby 604-451-3310
PRESALE TICKETS
Starting at $50
More there after & at the door.
VIP TICKETS *** SOLD OUT***
- VIP line privileges
- FREE coat check
- Access to the Mezzanine Level VIP area with PRIVATE BAR
- A premium glass of Rose Champagne to toast at midnight
- Savoury canaps catered by Taste
VIP TABLE SERVICE
Table service done right. Located either upstairs on the VIP mezzanine or on the main dance floor (selection varies depending on the event and availability). Includes private servers and a VIP host. Minimum purchase required. Email info@twisted.ca for VIP Table Service bookings.
Grey Goose & Moet Table Package for 6 – $975
- 6 VIP Entries into the club (no line up)
- VIP Table upstairs (or table #2, front of alcove)
- Personal Server
- Pop/Juice mixes (excluding RedBull)
* May purchase up to two extra tickets for $75 each
Grey Goose Table Package for 10 – $1400
- 10 VIP Entries into the club (no line up)
- VIP Table on the dance floor
- Personal Server
- Pop/Juice mixes (excluding RedBull)
* May purchase up to two extra tickets for $75 each
Grey Goose & Moet Table Package for 10 – $1800
- 10 VIP Entries into the club (no line up)
- VIP Table on the dance floor
- Personal Server
- Pop/Juice mixes (excluding RedBull)
* May purchase up to two extra tickets for $75 each
For more information or to book your Table Service package contact vip@fivesixty.ca or info@twisted.ca
FOR GROUP SALES OF 5 OR MORE, EMAIL INFO@TWISTED.CA
CONNECT WITH US ONLINE FOR EVENT NEWS & MORE:
Online:
www.twisted.ca
On Facebook:
www.facebook.com/twisted.ca
On Twitter:
www.twitter.com/twistedDOTca
On Youtube:
www.youtube.com/twistedDOTca
On Instagram:
www.instagram.com/twistedDOTca
On Soundcloud:
www.soundcloud.com/twistedDOTca
Last Updated on