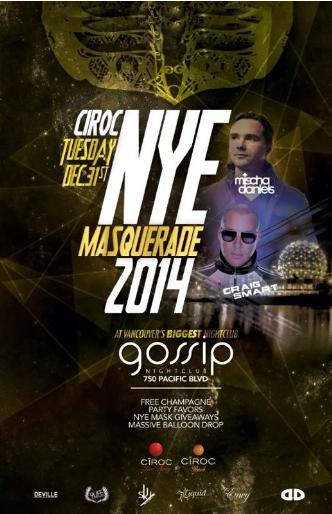 Venue:
When:
City:
Address:
Tue Dec 31 2013 930PM
Vancouver
750 Pacific Blvd
Regular: $55.00
DOUBLEDOWN PRODUCTIONS
9LIFE ENTERTAINMENT
ENVY ENTERTAINMENT
LIQUID NIGHTLIFE
SKY NIGHTLIFE
DEVILLE
CIROC VODKA and DESTINATION SATURDAYS EXCLUSIVELY PRESENTS:
CIROC NYE Masquerade 2014
Destination Saturdays and Ciroc Vodka are collaborating and throwing the ultimate NEW YEARS EVE party for 2014 at GOSSIP nightclun! Join us for the countdown at Vancouver's biggest and busiest nightclub! Special headliners
renowned Dutch music producer and DJ, Mischa Daniels of Fame Record Labels, and Craig Smart an international platinum selling artist will be bringing down the house to rock the new year in!
TICKET PRICING:
Early bird: $35
After: $45-$55
VIP Tickets: $100
VIP PACKAGES
CIROC PREMIUM VIP PACKAGE : $1350
12 x VIP COVER
2 x CIROC BOTTLES 750ml
1 x CHAMPAGNE
POP/JUICE MIXERS
PARTY FAVOURS
SNACK TRAY
VIP ENTRY PRIVILEGE
VIP TABLE SERVICE
CIROC LARGE VIP PACKAGE: $1100
10 x VIP COVERS
1 x CIROC BOTTLE 750ml
1 x CHAMPAGNE
POP/JUICE MIXERS
PARTY FAVOURS
SNACK TRAY
VIP ENTRY PRIVILEGE
VIP TABLE SERVICE
CIROC BED VIP PACKAGE : $900
8 x VIP COVERS
1 x CIROC BOTTLE 750ml
1 x CHAMPAGNE
POP/JUICE MIXERS
PARTY FAVOURS
SNACK TRAY
VIP ENTRY PRIVILEGE
VIP TABLE SERVICE
CIROC BED VIP PACKAGE : $600
6 x VIP COVERS
1 x CIROC BOTTLE 750ml
1 x CHAMPAGNE
POP/JUICE MIXERS
PARTY FAVOURS
SNACK TRAY
VIP ENTRY PRIVILEGE
VIP TABLE SERVICE
All prices include tax / tips
—————————–
SPECIAL FEATURES:
+ ANNUAL *SOLD OUT* NYE PARTY!
+ FREE MASKS
+ COMPLEMENTARY CHAMPAGNE AT MIDNIGHT
+ MASSIVE BALLON DROP AT MIDNIGHT
+ SPECIAL GIVEAWAYS
+ 1200+ PARTY PEOPLE
+ VIP TABLE SERVICE
***Table packages are very limited so please contact us today to reserve yours!***
Last Updated on