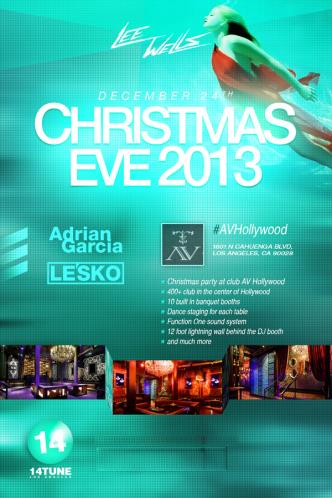 Venue:
When:
City:
Address:
av nightclub
Tue Dec 24 2013 930PM
LOS ANGELES
1601 N. Cahuenga Blvd
Regular: $20.00
Los Angeles's Top Promoters Present AVnightclub in Hollywood Tuesday, December 24th 2012 – Get ready for our annual Christmas Eve Party (No work/school next day, so no excuse not to come out)

Featuring Top Hip Hop - EDM Djs / Sexy GoGo Dancers / Giveaways & More – slam-packed w/gorgeous party people who really know how to party!

If you're sticking around town for the holidays, then get out for a huge holiday party before you start the family celebrations. This Yuletide rager features fully stocked bars, holiday decor and dancing to the latest hip-hop, house, top 40 and progressive tunes in a hidden sanctuary in the heart of Hollywood. AV is an indoor-outdoor club with a patio oasis that's great for conversation and an indoor dance floor with a stage, dance platforms and VIP tables where the music will be pumping all night long. If you're lucky, you may win a treat from Santa, as prize giveaways will be happening throughout the night.

Great bottle specials available please contact us for discount!!!
Last Updated on