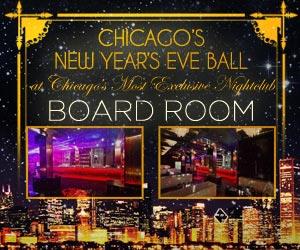 Venue:
When:
City:
Address:
Tue Dec 31 2013 900PM
Chicago
343 West Erie
General Admission: $105.00
General Admission- CASH BAR: $50.00
Your New Years Eve celebration deserves to be the best it could possibly be. Its the one nostalgic night of the year when we get together with our closest friends and be a part of an atmosphere that were likely never to forget. If last years NYE celebration didnt do it for you, then this year its time for you to amp it up. Forget the house parties because one of Chicagos most popular nightlife venues is ready to whisk you past the velvet rope and onto their A-list dance floor.
While some folks only dream of getting into a club like Board Room, this year you can make it happen! New Years Eve 2014 at Chicagos Most Exclusive Nightclub is exactly how you want to spend this evening. But it isnt just the access thats great, the amenities really take this experience to another level. Presented by ChiTownEvents, this event features four hours of premium open bar, a live DJ serving up music that will keep your feet moving throughout the party, and a live champagne toast at midnight to cap it all off.
The run of the mill New Years Eve experience in Chicago just wont cut it this year. Heres your chance to be a part of a special event that youll never forget. Its never too early to get your New Years Eve tickets, so be sure to act quick because chances are this is one event thats going to be available for much longer.
General Admission:
Welcome to Chicagos Most Exclusive Nightclub. All guests will receive the following amenities:
4 Hours of Open Bar (9pm-1am)
Live DJ Performance
Champagne Toast at Midnight
Festive NYE Party Favors
Last Updated on