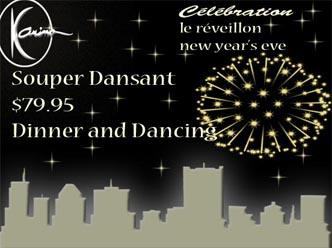 Venue:
When:
City:
Address:
Tue Dec 31 2013 700PM
Montreal
1455 Rue Crescent
Regular: $79.95
Celebrate the New Year with class and elegance at Karina's Club Lounge/Piano Bar. Enjoy a five course meal to the sound of our live piano followed by an evening of dancing with DJ Tag. Tickets are 79.95$ which includes entertainment, a five course meal and a glass of bubbly at midnight. Get your tickets now before it is too late!
Celebrez le Nouvel An avec elegance et classe au Karina Club Lounge/Piano Bar. Degustez votre repas au son du piano et par la suite eclatez-vous sur la piste de danse avec DJ Tag. Les billets sont 79.95$ et comprennent un souper 5 services, musique en direct et un verre de mousseux minuit. Achetez vos billets maintenant avant qu'il ne soit trop tard!
Menu Reveillon
Hors d'oeuvres
Tartare de thon etTerrine de Gibier sur croustilles campagnardes
Tuna Tartare and Game Terrine served oncrispy bread
Creme Du Barry
Cauliflower Soup
Raviolis de canard et tranches de canard poelees
Duck ravioli served with sliced duck breast
Filet de Dore sur lit de quinoa aux crevettes de Matane
Walleye fillet served on a bed of quinoa and Matane shrimp
Ou
Coeur de filet de beouf et Langoustines grillees
Filet Mignon and shrimp Scampi
Dessert :Assiette gourmande
Verre de mousseux
Last Updated on