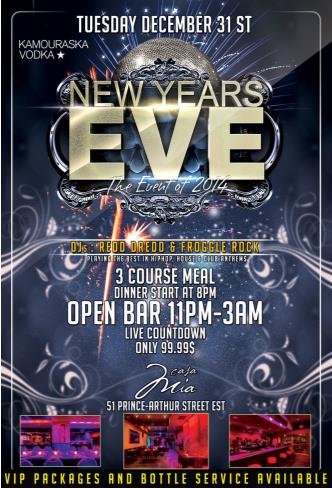 Venue:
When:
City:
Address:
Regular: $99.99
BRONZE Package: $820.00
SILVER Package: $1050.00
GOLD Package: $1450.00
PLATINUM Package: $1850.00
DELECTABLE 3 COURSE GOURMET MEAL
OPEN BAR ALL NIGHT 11PM-3AM
Casa Mia restaurant is situated on Prince Arthur Street, corner of St-Dominique, in the heart of downtown Montreal. Discover a tempting menu of Mediterranean cuisine, which suggests tasty seafood specialties, grills and pasta. Come enjoy delicious food and a great party atmosphere, not to mention OPEN BAR 11pm-3am.
DJ REDD DREDD AND DJ FROGGLE ROCK PLAYING THE BEST IN HIPHOP, HOUSE AND CLUB ANTHEMS
LIVE COUNTDOWN
FREE CHAMPAGNE FOR EVERYONE AT MIDNIGHT
DOORS OPEN 7PM
DINNER STARTS 8PM
VIP TABLE AND BOTTLE RESERVATIONS AVAILABLE
PACKAGES INCLUDE DINNER + VIP SEATING + OPEN BAR 11pm-3am + Bottle service
BRONZE PACKAGE: $820: 4 VIP tickets + choice of 1 bottle (Smirnoff, captain morgan rum, grey goose, kettle one or jack daniels) + 1 bottle moet et chandon champagne
SILVER PACKAGE: $1050 : 6 VIP tickets + choice of 1 bottle (Smirnoff, captain morgan rum, grey goose, kettle one or jack daniels) + 1 bottle moet et chandon champagne
GOLD PACKAGE: $1,450: 8 VIP tickets + 1 bottle of magnum grey goose or choice of 2 bottles (Smirnoff, captain morgan rum, grey goose, kettle one or jack daniels) + 1 bottle moet et chandon champagne
PLATINUM PACKAGE: $1,850 : 10 VIP tickets + 1 bottle of magnum grey goose or choice of 2 bottles (Smirnoff, captain morgan rum, grey goose, kettle one or jack daniels) + 2 bottles moet et chandon champagne
Last Updated on