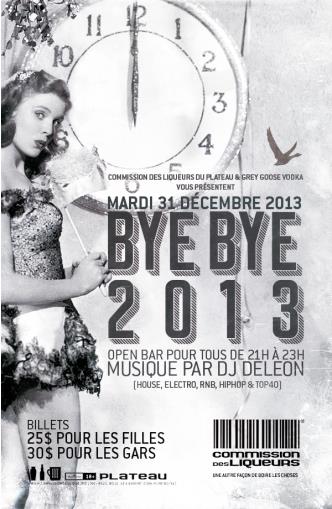 Venue:
When:
City:
Address:
Tue Dec 31 2013 900PM
Montreal
4521 Boul. St-Laurent, Montreal, Qc. CA
FOR WOMEN: $25.00
FOR MEN: $30.00
BRONZE PACKAGE: $125.00
SILVER PACKAGE: $275.00
GOLD PACKAGE: $350.00
PLATINUM PACKAGE: $775.00
COMMISSION DES LIQUEURS DU PLATEAU & GREY GOOSE VODKA
PROUDLY PRESENTS :
NYE 2014 CELEBRATION
WITH DJ DELEON (House, Electro, HipHop, RnB, TOP40)
Deleon is known best for his club work and listener friendly mixtapes the corporate world has also caught on to Deleon as hes been tapped to play private events for such major players as Ferrari, Reebok, Heineken and Michael Kors. The celebrity crowd loves him as well having played sets for everyone from Kirsten Dunst, Jim Sturgess, Tommy Lee, Serani, Mr Cheeks and Rihanna.
*** OPEN BAR : 9PM TO 11PM ***
Tickets : 25$ FOR WOMEN & 30$ FOR MEN
> Bronze Package : 125$
4 VIP Tickets & 1 Sparkling 750ml
> Silver Package : 275$
4 VIP Tickets + 1 Smirnoff Vodka 40oz & 1 Sparkling 750ml
> Gold Package : 350$
4 VIP Tickets + 1 Greey Goose Vodka 26oz & 1 Mot & Chandon 750ml
> Platinum Package : 775$
8 VIP Tickets + 1 Grey Goose Vodka Magnum, 2 Mot & Chandon 750ml
Commission Des Liqueurs – Plateau
4521 Boul. St-Laurent (Corner Mont-Royal)
Last Updated on