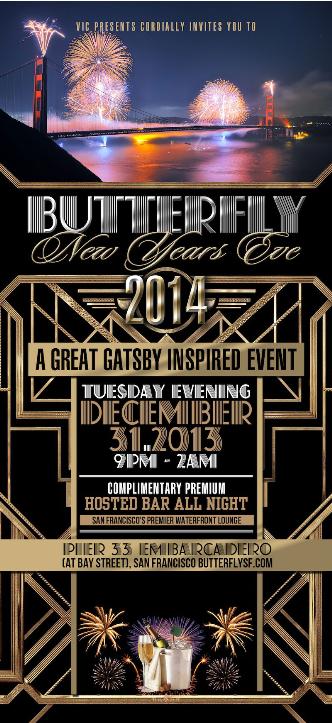 Venue:
When:
City:
Address:
Butterfly Lounge – Pier 33
Tue Dec 31 2013 800PM
San Francisco
The Embarcadero
General Admission: $120.00
BUTTERFLY NEW YEARS EVE 2014
Butterfly Lounge at Pier 33 San Francisco hosts Gatsby Themed NEW YEARS EVE 2014 Party

"A GREAT GATSBY INSPIRED EVENT"
Experience an elegant night of celebration and the biggest party of the year at San Francisco's premier Waterfront venue. Butterfly Restaurant & Lounge located at historic Pier 33 Embarcadero Street with a phenomenal view of the entire bay. All tickets include PREMIUM TOP-SHELF HOSTED BAR all night long. Black tie, suits and cocktail dresses extremely recommended but not required. Remember this is the last party of the year, lets make it memorable.
TUESDAY EVENING, DECEMBER 31, 2013
BUTTERFLY LOUNGE – PIER 33 EMBARCADERO @ BAY STREET | SAN FRANCISCO
MUSIC PROVIDED BY THE BAY AREA'S FAVORITE CLUB DJS
>> CLUB HITS – HIPHOP – EDM – HOUSE MUSIC – TOP40 POP <<
THE LES (99.7 Now Radio Mix DJ)
MYTYMYKE (SF/SJ)
GENERAL ADMISSION TICKETS
Each ticket includes:
- PREMIUM TOP-SHELF HOSTED BAR
- Party Favors
- Massive Balloon Drop at Midnight