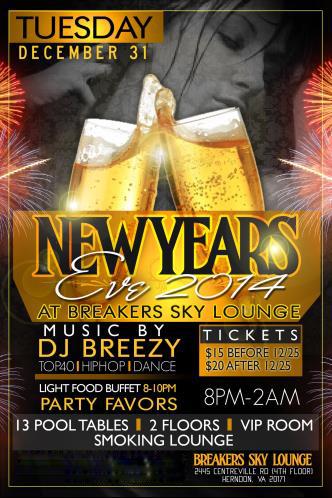 Venue:
When:
City:
Address:
Tue Dec 31 2013 800PM
HERNDON
2445 BREAKERS SKY LOUNGE
VIP: $45.00
Regular: $20.00
Slide into your Sexist Outift and head to DANCE into 2014 at Breaker's Sky Lounge in Herndon, Va.
- 8:00pm to 10:00pm Appetizers and Sweets buffet
- 10:00pm to 2:00am Dance, dance and dance into the new year, then dance some more
- Complimentary Toast at midnight with your friends and loved ones
PRE-SALE TICKETS- $15
VIP TICKETS- $40 (INCLUDES 5 DRINKS)
Come dressed in something sexy and bring the BLING (please no athletic gear).
Why go all the way to DC? The party is here- right in your back yard. Don't spend hundreds on an event and an outfit- come do it right, Breaker's style!
Last Updated on