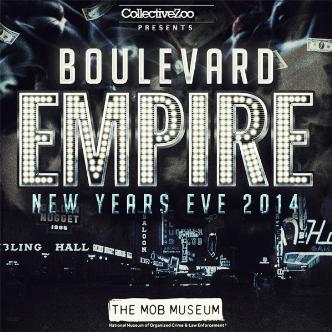 Venue:
When:
City:
Address:
The Mob Museum
Tue Dec 31 2013 800PM
Las Vegas
300 Stewart Avenue
General Admission (Early Bird pricing – limited supply): $89.00
VIP Admission (Early Bird pricing – limited supply): $139.00
General Admssion: $115.00
VIP Admission: $165.00
See last years "Great Gatsby New Years Eve" video(Different location): https://vimeo.com/567172
Event Details:
The ultimate soire for movers and shakers in Vegas this New Years Evewill be hosted inside one of the most spectacular spaces in downtown Las Vegas,the Mob Museum! The event theme is a take on the hit mob-based televisionseries Boardwalk Empire and will be reminiscent of an era past- a prosperoustime known as the prohibition era. This is a black tie affair among a settingof red carpets, glitz, glamour and 3 Hour TOP SHELF Open Bar (8-11pm) withinall three levels of the Mob Museum.
Top Shelf openbar
Entire VIP floor exclusive to VIP ticket holders
NYE ChampagneToast
Various live entertainment
The valleys greatest DJs
Live music duringopening hours
Televised countdown
VIP Table service available
GeneralAdmission
TOP SHELF OPEN BAR
NYE Champagne Toast
Various live entertainment
Televised broadcast of all cities
Live NYE 2014 countdown
Festive NYE party favors
Access to all Mob exhibits
Coat Check available
 VIP Tickets
All General Admission benefits 
Exclusive access to VIPsections on all floors 
Hor's dOeuvres from 8-11pmEXCLUSIVELY in VIP areas
Separate VIP Bars
Only persons holding VIPtickets may access VIP areas 
VIP Priority admission byseparate VIP line
Coat check included
Does not include bottle orcocktail service
*Valet and coatcheck available on property.