INDIA CASTLE
Cambridge
928 Massachusetts Ave, Cambridge, MA 02139
1 Ticket to NYE Masquerade Party @ India Castle: $25.00
2 Tickets to NYE Masquerade Party @ India Castle: $50.00
5 Tickets to NYE Masquerade Party @ India Castle: $115.00
10 Tickets to NYE Masquerade Party @ India Castle: $210.00
Bollywood NYE Masquerade Party at
the Heart of Downtown Cambridge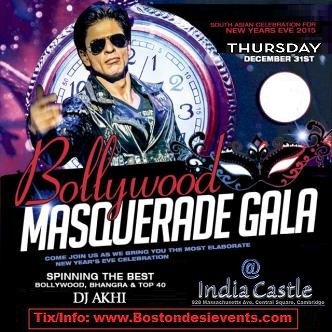 Grab your Masks and head on over to the Biggest Desi Party in the heart of Downtown Cambridge while you Celebrate New Years in Style.
Mark the Date: December 31st 2015
Party in Elegance, In Style while you dance to Bollywood/ Bhangra and Remixes in the Heart of Central Square Cambridge
* Boston Desi Events Dj Akhi will be spinning Bollywood/ Bhangra/ Remixes & More
* Party starts at 9pm .
* Party in downtown cambridge in Central square. Few blocks away from Harvard Square and MIT
* 2 Full Bars at the Venu
* Plenty of free parking in the area.
Note: This is a 21 + Event. No Kids allowed. Proper ID required
For more details/ Info / Tix or Group discounts call Ravi 617.416.8705 or Jeet 617.216.1492
Last Updated on