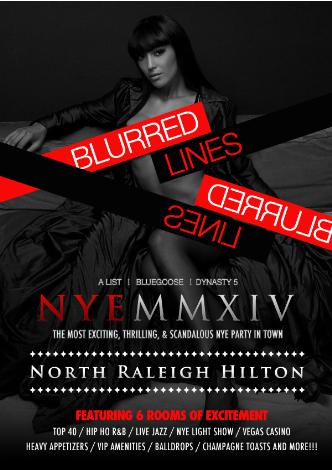 Venue:
When:
City:
Address:
Tue Dec 31 2013 900PM
Raleigh
3415 Wake Forest Road
General: $35.00
General Admission Pair: $65.00
Tickets Will Be Available at the Door

21+ Event
Celebrating the new year is all about saying goodbye to the old and preparing for the new! What better way to say goodbye to the old than a celebration with friends, family, good drinks and food! In our ever evolving effort to raise the bar, we provide you with our most exciting, thrilling, & dare we say scandalous event yet! Here there is no right or wrong way to have a good time. This year there is only one rule… Party your a** off!

We will have 5 DJs across 4 ballrooms and 2 restaurants playing top 40, hip hop, latin, live music, old school and more! Wander around and experience everything or find your favorite DJ and rock with him all night! The choice is yours!

Party Features & Rooms Include:

* Ballroom 1: Top 40 Dance with NYE Light Show & Jumbotron
* Ballroom 2:
Hip Hop & R&B

* Ballroom 3: Vegas Casino Room -
Live Music Performance by local jazz band Anything Goes

* Ballroom 4: Caribbean/Island Jam
* Sky Boxx Restaurant: Old School
* Lofton's Restaurant: VIP Lounge
* VIP Amenities
* NYE Toast, Jumbotron, Balloon Drop and more!
Last Updated on