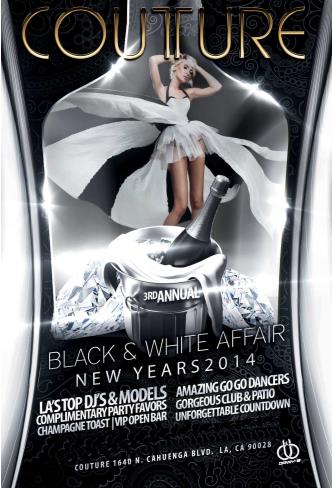 Venue:
When:
City:
Address:
Couture Los Angeles
Tue Dec 31 2013 900PM
Los Angeles
1640 N Cahuenga Blvd
Pearl Ticket – Special Promo: $35.00
Pearl Ticket: $60.00
Pearl Entourage of Five: $150.00
Onyx VIP Open Bar – Special Promo: $75.00
Onyx VIP Open Bar: $150.00
Revel in the E
lectric Energy
of 
Couture Los Angeles'
3rd Annual Black & White Affair
Rated #1 Lounge by CaliforniaNightLife.com
Ring in 2014 with Style and Splendor at
Couture Los Angeles
Tuesday 12/31
9:00 PM – 2 AM
New Years Eve 2014
Join us in the Innovative Heated Patio, Bar & Lounge, and a plush Main Room, to dance the night away to your favorite Open-Format and House DJs.  Don't miss the Luxury and the Life that we all want to experience this New Year?s Eve.
Your New Years Eve plans have been officially set!  So get ready for a celebration of sheer NightLife indulgence at its absolute finest.  Party favors & a countdown that will be 2nd to no other, in america's favorite city and world renown Ultra Lounge…
___
[5]
5 Hour Premium VIP Open Bar
[4]
Four  DJs Performing House, Open Format, & Top 40
[3]
Areas Indoor & Amazing Heated Outdoor PatioOutdoor
[2]
Two Venues Combine Spice & Couture for…
[1]
One Spectacular Countdown Experience!
__
TABLE SERVICE PACKAGES & GROUP RATES AVAILABLE 
Dress Code: Black & White Attire ONLY | Tie preferred but not required
__:: | All Sales are final. No refunds or exchanges. Prices are subject to change while supplies last.