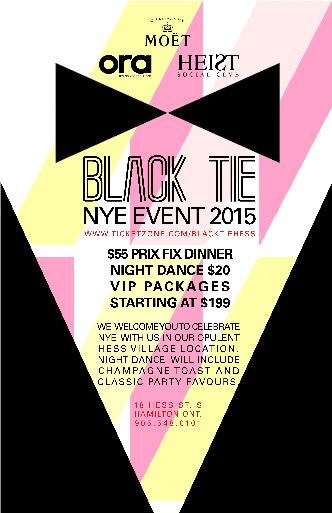 Ora & Heist Social Club
Hamilton
18 Hess St. S
Basic VIP Service: $199.00
Night Dance: $20.00
Prix Fix Dinner: $55.00
Upgrade 1 VIP Service: $299.99
Upgrade 2 VIP Service: $399.99
Moet Presents
Black Tie
NYE 2015
In the heart of Hess Village our venue has come to life and we are now welcoming everyone to experience the very best we have to offer this New Years Eve. Our BLACK TIE event is one of class, distinction and a truly spirited event for all mature adults to enjoy. Our multilevel venue has already took Hamilton by storm with our unprecedented look, service and commitment to quality. We encourage formal dress, early bookings and if you would like anything special on this great event, call the venue and let us know.
WE WELCOME YOU TO CELEBRATE
NYE WITH US IN OUR OPULENT
HESS VILLAGE LOCATION.
NIGHT DANCE WILL INCLUDE
CHAMPAGNE TOAST AND
CLASSIC PARTY FAVOURS.
Dinner
$55 per person PRIX FIX dinner menu will be posted shortly
Dinner Service will sell out, please reserve early.
Basic VIP Service
$199 – 1 26oz Domestic Bottle of Your Choice
- 1 Generic Bottle Champagne
- 2 Free Entry Passes
Upgrade 1 Vip Service
$299 - 2 26oz Domestic Bottles of Your Choice
– 2 Generic Bottle Champagne
– 4 Free Entry Passes
Upgrade 2 VIP Service
- 2 26oz Premium Bottles of Your Choice
- 1 Generic Bottle Campagne
- 1 Bottle Moet
- 6 Free Entry Passes
* ALL Luxury Packages are only offered through the venue, please call for details
19+ Event
Event Will Sell Out please reserve early
Last Updated on