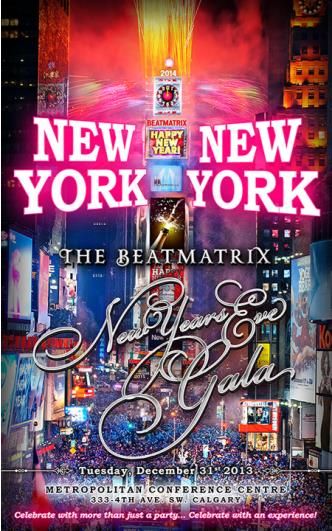 Venue:
When:
City:
Address:
Tue Dec 31 2013 900PM
Calgary
333 Fourth Ave S.W.
General Admission (Final Batch): $78.70
Join us for an exhilarating night filled with glamour and excitement from the greatest city in the world!
TwoTowers proudly presents…

* THE BEATMATRIX *
* New Years Eve Gala *
NEW YORK NEW YORK
We invite you to a night filled with fast paced action, unmatched energy, and high fashion as you enter the world of luxury.
From the beautiful and sexy runway models to the magnificent and talented street performers, in addition to the elegant stage dancers combined with the best in entertainment, the main room is sure to bring the best that is New York to life.
Step into the five boroughs of New York as we exhibit NYC culture at it's finest in the side room. Experience the different worlds of New York from a Broadway spectacle to graffiti artists creating in front of you. Jump into Rucker Park and see if you have what it takes to win; take a stroll down 5th ave and shop till you drop and bid in our silent auction.
Do you have what it takes to walk the runway? Strut your stuff on the catwalk and show us your best vogue.
All this and SO MUCH MORE that is guaranteed to bring the excitement of the Big Apple to Calgary.
Feel the energy, experience the culture, and party with the intensity and bright lights that will put you in an empire state of mind.
On Dec 31st, the sites, sounds, and feel of New York come to life with the BeatMatrix New Years Eve Gala — NEW YORK NEW YORK!!
More New York themed surprises to come!
* This year celebrate with MORE than just a party… CELEBRATE WITH AN EXPERIENCE! *
DECEMBER 31st, 2013
METROPOLITAN CONFERENCE CENTER
333 4th Ave SW
*******************************************************
–> $20 EARLY BIRD TICKETS SOLD OUT IN MINS <---
Don't wait till the last minute this year.
*******************************************************

* MAIN ROOM *
The best Hip Hop, R&B, Top40, and more with GUMMI, BUGSY BROWN, and DJ SHAHIN
* SIDE ROOM *
DJ TBA
* TICKETS *
Early Bird Tix – $20 (SOLD OUT IN MINS!!)
Next Batch – $49.95 (ALMOST SOLD OUT)
Final Batch – $74.95
More @ Door (if available)
* CHAMPAGNE PACKAGES *
Celebrate in style and book an exclusive CHAMPAGNE and TABLE PACKAGE today. Package includes a reserved table (seats up to 10 people) and 2 bottles of champagne. Limited number of packages available. These packages will sell out quick!
Editor's Note: Beat Matrix New Years Eve Gala 2014 was recognized in 2012 as Most Popular New Year's Eve event on www.clubZone.com! Be sure to get your tickets early as this popular event is sure to sell out quickly.
Last Updated on