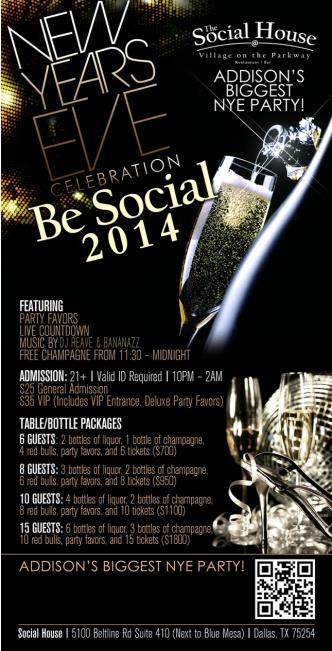 Venue:
When:
City:
Address:
Tue Dec 31 2013 1000PM
ADDISON
5100 BELT LINE RD 410
Regular: $25.00
Main Room 1: $700.00
Main Room 2: $950.00
Main Room 3: $1100.00
Main Room 4: $1800.00
VIP: $35.00
Addison NYE Presents Be Social 2014, the BIGGEST New Years Party in Addison!
Ring in the New Years with a BANG at Addison's only Supperclub!
Social House is the Addison's nightlife hotspot featuring live Djs, open air patio and a great staff!
DO NOT MISS YOUR CHANCE TO BE A PART OF ADDISON'S BIGGEST NYE CELEBRATION!!
Featuring:
Red Carpet PaparazziEntrance
Djs Playing Hip Hop,Electro & Top 40
FREE CHAMPAGNE from 11:30 – MIdnight
Free Party Favors
Live Countdown
Admission:
$25 General Ticket
Includes General Admission
$35 VIP Ticket
Includes VIP Entrance, Deluxe Party Favors
21+ Welcome | Valid ID Required |
VIP Tables
Main Room 1: 2 bottles of liquor, 1bottle of champagne, 4 red bulls, party favors, and 6 tickets ($700)
Main Room 2: 3 bottles of liquor, 2 bottles of champagne, 6 red bulls, party favors, and 8 tickets ($950)
Main Room 3: 4 bottles of liquor, 2 bottles ofchampagne, 8 red bulls, party favors, and 10 tickets ($1100)
Main Room 4: 6 bottles of liquor, 3 bottles ofchampagne, 10 red bulls, party favors, and 15 tickets ($1800)
Social House Addison
5100 Beltline Rd, Suite 410, Addison, TX 75254
Last Updated on