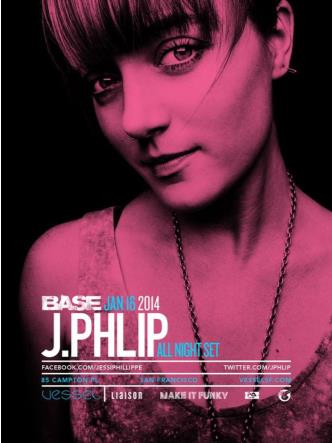 Venue:
When:
City:
Address:
General Admission: $8.00
BASE x Make It Funky present
J.PHLIP (Dirtybird)
J. Phlip (pronounced J Flip) known to some as Jessica Phillippe discovered house music in her hometown of Champaign, Illinois, just 2 hours south of Chicago.
Sometime around her 19th birthday she got her first DJ rig – two belt drive turntables and a mixer lacking EQ knobs for $100 bucks! From then on, her poor roommates were forced to listen to a constant dance party in-between her Systems Engineering studies. There aren't a lot of 4.0 brainiac engineering majors who decide to become DJs instead of cashing in on their degrees, but Jessica truly loves the music and has dedicated her life to it.
Her proximity to Chicagos famous house scene tremendously affected her sound, but the distance afforded her the freedom to incorporate a variety of other influences into her repertoire. Her sets posses a fun, "lets-not-forget-this-is-dance-music," feeling and simultaneously keep you guessing about what might come next. Her collection spans house, tech house, deep house, techno, booty bass and pretty much anything that make you shake your ass.
Jessica's skills on the decks and in the studio have secured her highly desirable spot as an official member of the Dirtybird crew, after signing her first record to them in 2008. She is currently Claude VonStroke's favorite support DJ and has already played at amazing high profile gigs like Fabric, Space Ibiza, Back to Basics, and Watergate. She was also chosen for URB Magazine's Next 100 of 2009 and is currently residing in Berlin (but is often back and forth between there and her previous home of San Francisco).
Vessel proudly welcomes back our fine feathered friend J. Phlip on Thursday, January 16 to help BASE kick off another year for the books!
$5 with guestlist before 11pm, $8 after // $10 without // $8 advance tickets valid all night.
Guest list and tickets available from www.vesselsf.com
Also, special visuals provided by Keisuke Shingu!
**New Drinks Deals!**
$5 Selected Beers // $8 Well Drinks // Call drinks from $9
**Discount table service available**
Please contact: reservations@vesselsf.com
Last Updated on