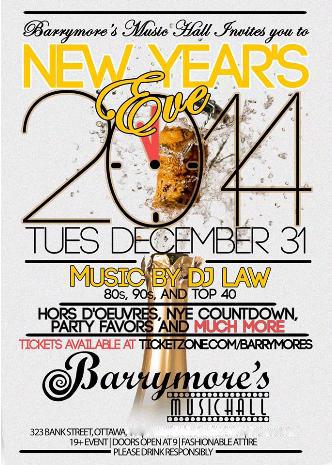 Venue:
When:
City:
Address:
Tue Dec 31 2013 900PM
Ottawa
323 Bank Street
Advance 2: $35.00
Regular: $40.00
New Year's Eve 2014 at Barrymore's Music Hall - A New Year's Eve party you'll be talking about all year! New Year's Eve at Barrymore's features catered food, NYE decorations, and a NYE count down, At least 5 decades of music (60′s, 70′s, 80′s, 90′s and today's top 40) will be covered. Limited amount of tickets are sold @ $25. Last year's New Year's event sold out 2 weeks in advance so get your tickets early! Warning: Price may increase soon!
MUST BE 19+ VALID ID
Please come early. Everyone has a ticket in advance and it takes time to clear the door and coatcheck so if you come after 11 expect a lineup.
there will be a time and date set for people to come and pick up their will call tickets in advance. That speeds up things at the door
Thanks you for choosing Barrymores once again to bring in the new year in.
DOORS AT 9
If you are interested in Bottle service please note, thats $750 with a $250 dollar deposit. Comes with 3 bottles of premium vodka or similar, and 2 bottles of champagne. (bottle service does not include tickets)
See you all in 2014
Editor's Note: Barrymores New Years Eve 2014 was recognized in 2012 as the most popular New Year's Eve event on www.clubZone.com! Be sure to get your tickets early as this popular event is sure to sell out quickly.
*******************ATTENTION**********************
AFTER PURCHASING THE TICKETS Please note that you can pick up your will call tickets at the door the night of the event. Someone will be handing them down to everyone in line.
You can also pick them up from the bar between 12-3pm Monday and Tuesday. Please make sure you have a photo ID with you and the credit card you purchased the tickets with.
Thank you
Last Updated on