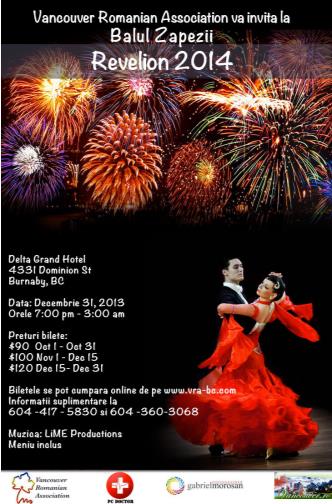 Venue:
When:
City:
Address:
Delta Grand Villa Hotel
Tue Dec 31 2013 700PM
Burnaby
4331 Dominion Street
Regular: $90.00
Regular: $100.00
Regular: $120.00
VRA invites you to celebrate New Year's Eve in style at "Balul Zapezii"! The evening will filled with a ball-type atmosphere. The event will take place at the gorgeous Delta Grand Villa Hotel in Burnaby. There will be only 300 spots available. For more information: http://vra-bc.com/events/balul-zapezii-revelion-2014/
Date: December 31, 2013
Location: Delta Grand Villa Hotel (4331 Dominion St, Burnaby)
Time: 7:00pm – 3:00am
Tickets:
Oct 1 – Oct 31: $90
Nov 1- Dec 15: $100
After Dec 15: $120
Tickets can be purchased below!
The evening's menu is included!
We're looking forward to celebrating the new year with you!