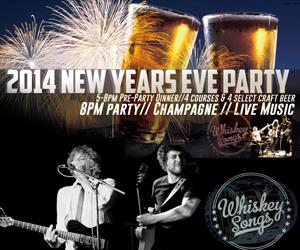 Venue:
When:
City:
Address:
Tue Dec 31 2013 800PM
Vancouver
2042 WEST 4TH AVE
Party: $30.00
Dinner: $60.00
Dinner + Party: $80.00
Come and ring in the new year at The August Jack!
Enjoy a exclusive 4 Course dinner paired with 4 select craft beers between 5PM to 8PM.
After dinner at 8PM we'll get the party started champagne, party favours and live music from Whiskey Songs. DJ Tall Man from Animal Nation will also be spinning tunes throughout the night.
_____________________________________________________
Dinner will be $60 + tax & gratuity. The party with Whiskey Songs will be $30. If you will be attending both, we're happy to offer you a special ticket price of $80.
For specially priced tickets for both portions of the evening , drop by the restaurant after 5PM at 2042 WEST 4TH AVE VANCOUVER
_____________________________________________________
A bit about the band:
Whiskey Songs is an old school 3 piece rock band with blues sensibility, hip-hop swagger, and psychedelic tendencies. They are from Vancouver, BC by way of Saskatoon, SK. Since January of 2013, they have released their debut album, held a residency gig Thursday nights in Vancouver at The Bimini, been added to Sure Shot Bookings Official rost, and been accepted to perform at NXNE, JunoFest, and the Sasktel Jazz Festival in Saskatoon, the town where they grew up. From heavy blues rock that hearkens back to the days of Hendrix and Cream, to hip-hop flavored soul with deep pockets, Whiskey Songs always get the crowd up.
Last Updated on