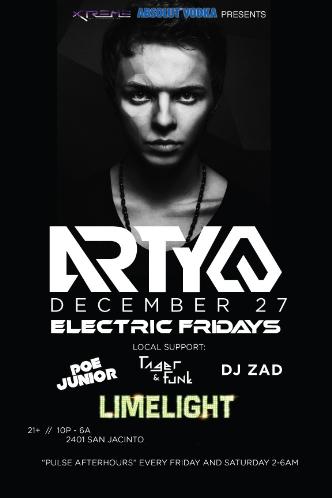 Venue:
When:
City:
Address:
Fri Dec 27 2013 1000PM
Houston
2401 San Jacinto
Early Bird General Admission: $10.00
General Admission Discounted Ticket: $15.00
General Admission: $20.00
Xtreme Nitelife, XMS Events, Underground Houston, Absolute Vodka & Limelight Present….
ELECTRIC FRIDAYS at LIMELIGHT Feat. ARTY
Electro ~ Progressive ~ Trance ~ House ~ Trap
Friday, December 27, 2013
10pm-3am
Pulse After hours every Friday and Saturday 2-6am
LOCAL SUPPORT:
Poe Junior // Tager N Funk // Zad

ARTY BIOGRAPHY:
Arty is musician and DJ from Russia. Less than for a year a young talent from Russia has made tremendous strides on the international dance scene. His music is supported by top DJs and musicians from all around the world, including Armin van Buuren, Paul van Dyk, Tiesto, Ferry Corsten, Above & Beyond, ATB and many others.
His tracks sound in most famous radioshows sush as A State of Trance, Club Life, Trance Around The World, Vonyc Sessions."Vanilla Sky", released in June 2009 on Enhanced Recordings, was awarded as the "Progressive Release of the Month"- version of the legendary journal "DJ MAG", which highest possible (5 / 5) rated this EP. Track Absynthe had the honor to open the worlds biggest dance festival of electronic music – "Sensation White 2009″ Single "Bliss", that was released under the alternative alias Alpha 9, sounded in all major radioshows, hit the charts for Ferry Corsten, Andy Moor, and Beltek, got to the 18th place of "Beatport Trance Top 100″ and the 2nd place "Audiojelly Progressive Top 100″, and was released on the compilation "ATB The DJ in the Mix 5″ along with his other work "Gentle Touch".
2010 has become a real breakthrough for a young musician.
An offer from Flashover comes right after ATB's one. It is the offer to write two tracks for Ferry Corsten's compilation "Once upon a night" after which "Hope" and "Come Home" see the light. In the end "Hope" becomes the iTunes's best-selling track from this compilation. Soon Artem signes his two new tracks "Rush" and "The Wonder" for Anjunabeats and as a result, these works are included in the legendary compilation "Anjunabeats 8″ from Above & Beyond.
Owing to active work in the studio, Artem can't stop making his fans glad with new stuff. Besides his original tracks, there are also remixes on Mike Foyle, Darren Tate & Jono Grant, Robert Nickson, Cosmic Gate and Above & Beyond in his piggy bank. His remix on D-Mad – "She Gave Happiness" headed the list in "Beatport Trance Top 100″. In June nine Arty's works got to "Beatport Trance Top 50″. It was an unprecedented case in the history of trance chart.
During the first six months Arty receives a powerful backing from all distinguished representatives of trance-arena in their radio-shows. The rotations amounts to 300! In April Artem gets an invitation to perform in Above & Beyond's radio-show "TATW", in May history repeats itself with Markus Schulz's radio-show "GDJB"! Original track "Rush" and Dan Stone's remix on it became the "Web vote winner" and the "Record of the week" twice in Above & Beyond's radio-show! All the achievements show that Artem's creative work obtains recognition on the world trance-scene.
On the heels of torrents of rotations Artem is honoured with being a member of such large-scale festivals as Gatecrasher, Global Gathering, Transmission, Vandit Label Night.
All of this is the minority of what future holds for him. At the present he continues to perfect his skill, working on new tracks.
Arty Social Media:
https://www.facebook.com/artyofficial
https://www.soundcloud.com/artyofficial
https://www.twitter.com/arty_music
https://www.artymusic.net/
https://statigr.am/tag/artymusic
Hosts || George Salas, Aladdin Nimri, Donovan, John Floyd, DJ Bizz & the Limelight fam
21+ Fashionable Dress Code
Valet Parking Available
3 Areas to party
Limelight Houston
2401 San Jacinto st.
Houston, Tx 77002
Last Updated on