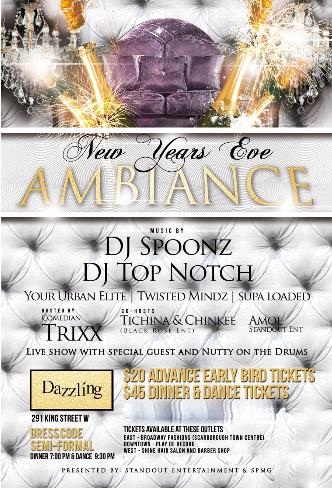 Venue:
When:
City:
Address:
Tue Dec 31 2013 700PM
Toronto
291 KING STREET WEST AT JOHN ST.
Regular: $20.00
Welcome to Ambiance New Years Eve 2014. We cordially invite you to ring in NEW YEAR'S EVE 2014 An Amazing Event at the extravagant Dazzling Lounge in the heart of the city downtown on King Street.
AMBIANCE
also ambience (mb-ns, -bys)
n. The special atmosphere or mood created by a particular environment:
Location: Dazzling Lounge – 291 King Street
This year we've combined some of the best dj's in the city providing the soundtrack and vibe you'd expect at most house parties and packaged it within an elegant 3 floor venue.
Start your evening off with a delectable dinner & show. Then dance the night away as our special guests DJs plays the very best in top 40, house, hip-hop,R&B, Reggae, Oldschool, & mash up.
Sound Track Orchestrated By:
DJ Spoonz & TopNotch
Master of Ceremony: Comedian Trixx
Hosted By: Mr.Standout & Friends & Special Guests
We will accommodate all of our guests with complimentary hors d'oeuvres and champagne pour for the countdown to midnight!
Doors open at 6:30 pm for dinner and dinner service will begin at 7:00 p.m. Those with dance-only tickets will be ushered into the event beginning at 9:30 p.m.
Please note that this is a 19+ Event | For the Mature Sophiscated Stylish Clientele. Dress Code : Semi-Formal *we reserve the right to refuse entry.
___________________________________
Limited $20 Early Bird | Dinner & Dance : $45
Prices will go up. Pls get them in Advance.
Ticket outlets:
Broadway Fashions:
Address: 300 Borough Dr, Scarborough, ON M1P 4P5
Play De Record
Address: 357A Yonge St, Toronto, ON M5B 1S1
Shine Barber Shop
Address: 50 Sunnyvale Gate, Brampton, ON L6S 6J3
* Each table requires a 2 bottle minimum and does NOT include tickets * Paid for in Advance.
___________________________________
Come Join Us & Many others across the City as we Celebrate Ringing in the start of 2014 in Fashion. NEW YEAR'S EVE 2014 at Dazzling your ONLY New Year's destination without the cost of a premium.
Last Updated on