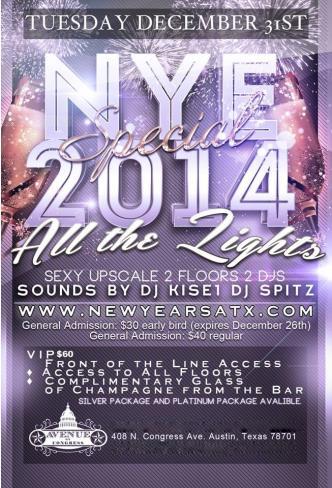 Venue:
When:
City:
Address:
Tue Dec 31 2013 800PM
Austin
408 N.Congress Avenue
EARLY BIRD GA: $30.00
GENERAL ADMISSION: $40.00
VIP: $60.00
SILVER TABLE: $1200.00
PLATINUM TABLE: $2000.00
Nye Inc and Avenue are coming together to give you a night of glamor and entertainment to be rivaled by none other new years eve. The ALL OF THE LIGHTS event promises to be one to remember, in a venue that is very unique to Austin.
The Avenue on Congress is located in the Historic Warehouse District. Decked out with an exquisite view of the skyline, huge dance floor, private bar, live entertainment, & bar/cocktail services this is a nightclub designed to give you a taste of what Austin has to offer.

With over 2,ooo square feet outdoors overlooking the Warehouse District, downtown Austin will be rocking with live music every Thursday-Saturday on the upstairs stage!! The Avenue on Congress is an AMAZING venue in Austin with the best music, state of the art lights, and sound — which makes it home for the cities best DJ's & Live Entertainment.
There will be a sold out house with beautiful people, lots of sponsors, your favorite songs, and lots of paparazzi to make this a night to remember.
Last Updated on