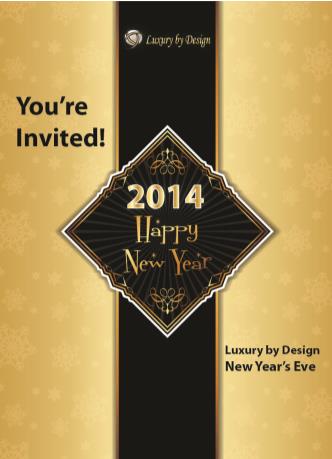 Venue:
When:
City:
Address:
Drury Lane Theatre Oakbrook Terrace
Tue Dec 31 2013 800PM
Oak Brook
100 Drury Lane
Individual: $75.00
Couple: $140.00
Luxury by Design 5th Annual New Year's Eve
Celebrate Good Times, Come On! Let?s Celebrate!
We?re counting down another new year in style.
Tuesday, December 31, 2013
8pm to 2am
Drury Lane
100 Drury Lane, Oakbrook Terrace, IL
$75 individual / $140 couple
($95 per person at the door based on availability)
What?s Included:
2 DJ's
Martini Bar 8:30pm to 10:30pm
5 Hour Premium Open Bar: 8pm to 1am
Food, fun, entertainment, prizes & MUCH, MUCH MORE!
Attendees Must Be 25 or Older (ID Required)
Attire: Formal (no jeans, gym shoes or caps)
Self Parking Available.
Get a head start on your holiday plans. Reserve your spot TODAY!
Payment Plans Available.
Need a room for the night?
Hilton Garden Inn Oak Brook - $109.
Hilton Suites Chicago Oak Brook – $119.
(Reserve by 12/17. Both these hotels share the same parking lot as Drury Lane, no need to drive.)
Happy Holidays!
Luxury by Design
Payment options: *Pay in Full. *Reserve a Spot – this allows you to reserve your spot and make payment arrangements on the balance. This amount is $25 per person and non-refundable. To include a $5 charge for the payment plan. All payment arrangements must be made and paid by 12/14/13. Last day to reserve a spot or make payment arrangements will be November 24th. After this time, all payments must be received in full. (call for details) Confirmation: Email confirmation will be sent for all payments received. Cancellation: All cancellations will incur a $10 processing fee. Full refund minus processing fee if cancelled 3 weeks prior to the event. Any cancellations after this point is non refundable. Qualified refunds will be mailed 21 business days after receipt of cancellation. Rights: Must provide proper ID to attend. Owner reserves the right to turn away anyone not providing the proper ID or attire to attend. No refunds will be provided. Inappropriate behavior is unacceptable at any time. Hotel Rooms: For this event, the hotels are currently offering a special rate for this event up to 3 days before and 3 days after the event. Call hotels directly to reserve or use the link provided to reserve. For parties of 10 or more, reserve seating for an additional $10.