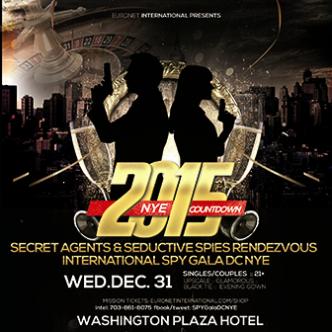 PRESIDENTIAL Admission 6:45pm-2:00am – Ticket – Filet Mignon: $295.00
PRESIDENTIAL Admission 6:45pm-2:am – Ticket – Eggplant Casserole: $295.00
PRESIDENTIAL Admission 6:45pm-2:am – Ticket – Sea Bass: $295.00
Regular Admission 9:00pm – 2:00am: $139.00
SPY Singles Ticket 10:30pm-2:00am – Premium OPEN Bar & Desserts an: $109.00
VIP Admission 6:45pm-2:00am – Salmon Entree: $199.00
VIP Admission Ticket 6:45pm-2:00am – Eggplant Casserole: $199.00
VIP Admission Ticket 6:45pm-2:00am – Filet Mignon Entree: $199.00
NEW YEAR'S EVE Countdown 2015
INTERNATIONAL SPY GALA
Sexy Spies & Secret Agents Rendezvous
in Washington DC
at the Washington Plaza Hotel
An All Inclusive Night of Thrills & Excitement For Your Eyes Only


Regular Tickets
Limited VIP Tickets
Less Than 10 Presidential Tickets Left
ONE ULTIMATE SECRET AGENT Package available
The International Spy Gala is Washington DC's ONLY New Year's Eve Secret Agent themed party with a License to Thrill spies of all ages (21+)
International spies in disguise, sexy femme fatales and secret agents come to celebrate and Countdown 2015 at Washington DC's One & Only Secret Agent themed New Year's Eve party.

I SPY U SINGLES MIXER in Iceland 9:00PM-10:00PM
Single ladies, come as a sexy femme fatale. Single gentlemen, come as a suave secret agent. Friendly hostesses, a cool Secret Token, and fun icebreakers will crack the code for singles to meet up with each other. If you dare to, unleash your alter egos at the undercover mission to dance with each other into 2015.
DC's One& Only New Year's Eve Gala where Sexy Spies in Disguise RENDEZVOUS to Countdown to 2015!
"The most unforgettable New Year's Eve experience of your lifetime!" – past guest
Join 1500+ Secret Agents and Femme Fatales for an night of all inclusive fun and excitement in Washington DC!
Martinis, Exotic Cars, Mock Casino, Ice Sculptures, Fun Golden souvenirs, Sexy Golden Girls of Espionage, Male Revue, Silhouette Dancers, Multiple exotic theme areas and cool photo ops, Times Square Live Feed Countdown 2015, party favors, TWO balloon drops, champagne. LIVE band! 6 DJ's! Very Well StaffedPremium Open Bars with fast service and friendly staff! Delicious Buffets &Desserts! All Inclusive Tickets!
The Washington Plaza Hotel transforms into international locales with themed props and decor for you to RENDEZVOUS with other Secret Agents and spies in disguise in your favorite theme locale and party into 2015 on New Year's Eve 2015 in Washington DC.
RENDEZVOUS features:
** Red Carpet Welcome
** Multiple photo ops with themed props
** Roving photographers to snap YOU the superstar for the night
** Singles Mixer in Iceland 9-10pm
** Sexy Gold Girls
** Hot Male Dancers
** Mock Casino Gambling and prizes
** Martinis shaken and poured from spy themed Ice Luges
** Ultra cool Ice Sculptures and Martinis in Iceland
** 4.5 hours Premium Open Bar with FAST service and FRIENDLY staff All Night
** 4 Warm Delicious International Buffet Stations and 1 Cold Buffet 9-10:30pm
** 2 Scrumptious Dessert Stations 10:30pm-12:30am
** Live Band
** 6 Rocking DJs
** Live Feed 2015 Countdown from Times Square
** Midnight Champagne Toast
** New Year's Party Favors – Hats, Tiaras, Noisemakers
** 2 huge balloons drops in the USA Ballroom and in ICELAND
International Food& Music from Around the World:
** VIP LOUNGE – DJ CJ Smooth Jazz, Motown & Latest Hits in the VIP Lounge
** USA ballroom – New Orleans Buffet - ANGELS Band + 2 DJ's - live entertainment Ballroom, Big Band,Swing, Rock 'n Roll, Jazz, Oldies, and popular hits
** ISTANBUL ballroom – Mediterranean Buffet – DJ Big Meech spinning Middle Eastern hits & R&B Jams
** ICELAND outdoor area – Cold Icelandic buffet – DJ A-Rock spinning Pop, Rock n Roll, 70's, 80's, 90's and pop hits
** LATIN/CARIBBEAN – Caribbean buffet – DJ Bing – Salsa, Merengue, Reggae,Calypso Rhythms
** ITALY – Italian buffet - people watching at the Italian cafe
Get a Hotel Room. Selling out FAST! Amazing low prices:
** Superior $115+tax. With Breakfast for Two $155+tax.
** Deluxe $135+tax. With Breakfast for Two $175+tax.
** Suites $195+tax. With Breakfast for Two $235+tax.
** Valet Parking $30 cash per car for event guests.
** Valet Overnight $35.40 per car for overnight guests, (added to credit card on check out).
** Self parking (street and garages) are available offsite.
BOOK A ROOM after YOU BUY your ticket.
1. BUY TICKETS
2. CHECK your receipt for your Order NUMBER.
3. CALL the Washington Plaza Hotel at 202.842.1300 to make your reservation.
4. Give your Order NUMBER and book your room.
The Washington Plaza Hotel is reserved exclusively for the guests attending the 2014/2015 New Years Eve International Spy Gala.
Washingtonian Magazine Top Pick from all New Year's Gala's around Washington DC for 2014/2015!!
#3 Washington Post Going Out Gurus Top Pick for Washington DC New Year's Eve Hotel Parties 2014 & 2015
#1 New Year's Party in Washington DC – CBS Local List for New Year's Parties 2012

#1″HOTTEST New Year's Eve HOTEL Party in Washington DC!" – #1 Pick by Huffington Post for New Year's 2012

#3 at Top 10 Places to Party for New Year's Eve 2011

#1 Most buzzed about party of the year for 2010
#1 Hottest New Year's Eve Events 2010/2011,Roomalicious Off & Away Blog
Last Updated on