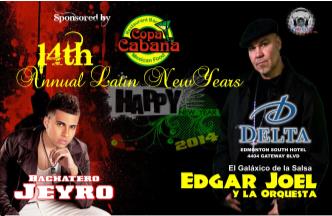 Venue:
When:
City:
Address:
Tue Dec 31 2013 530PM
Edmonton
4404 Gateway Boulevard
Group Rate Special- Table of 10 Dance Only: $500.00
Regular Dance Only Ticket- single Admission: $60.00
14TH ANNUAL LATIN NEW YEARS – SPONSORED BY COPACABANA RESTAURANT & NIGHT CLUB
THIS EVENT SELLS OUT EVERY YEAR! GET YOUR TICKETS SOON!
FOR THE FIRST TIME IN CANADA SALSA ARTIST EDGAR JOEL
AND BACHATA ARTIST JEYRO
Latin New Years Eve 2014 at The Delta Edmonton South Hotel will be an extravagant NYE to remember. Sit Down and relax to the beautiful latin rhythms of International Salsa Artist EDGAR JOEL AND BACHATA ARTISTJEYRO
Party this NYE away with Edmontons hottest Latin DJs, DJ Fuego, DJ Henry and A Guest DJ Playing the best in Latin, and Top 40. Reserve your NYE at The Delta Edmonton South Hotel to dance the night away and kiss your special someone as the clock strikes midnight!!
Whether you are looking to impress that certain someone or bringing the whole family with you.
The 14th Annual Latin New Years Eve at the Delta Edmonton South Hotel is your final destination. Your Evening will be a feast for the senses. The exquisite 4 course sit down dinner will excite your palate and the music will entice your feet to dance… Ring in the New Year as never before! When the clock hits 12.Get ready to experience en excitement on stage all the way from Puerto Rico EDGAR JOEL Y LA ORQUESTA AND BACHATA ARTIST FROM NEW YORK JEYRO
Venue
Delta Edmonton South Hotel (NEW Grand Ballroom)
4404-Gateway Blvd, Edmonton Alberta

Date/Time
Tuesday December 31, 2013
5:30 pm to 2:30am
Schedule and Details
Doors Open at 5:30 pm
Dinner Starts at 7:45 pm
Dance to Follow at 9:00 pm
Doors will open to dance ticket holders at 9pm
Dance the night away till 2:30 am
Open to the General Public and Dress to Impress Family Event
Ticket Option 1 Before December 15 (EARLY BIRD SPECIAL)
Dinner & Dance Included:$89/person
Includes 4 course plate service dinner, party favors and entertainment
Ticket Option 2 After December 15 (General Admission)
Dinner & Dance Included: $99/person
Includes 4 course plate service dinner, party favors and entertainment
Ticket Option 3
Dance Only Ticket $60 per person, Buy early don't wait and pay $75 at the doors.
Dance Ticket Holders Doors opens at 9:00pm
Ticket Option 4
Group Rate Table for 10 " Dance Only" $500
This means tickets are $50 each when you buy the group rate
Includes dance, party favors and live entertainment

Last Updated on